When I started this blog out of summer boredom, I never thought anyone would ever read it (besides my dad), let alone acknowledge my blog with an award. So I am truly flattered that people take the time to stop by my little place on the internet and actually enjoy what they read and see. I want to thank Cathy from The Tortefeasor for this award…I really appreciate it! Cathy is a fellow Tuesdays with Dorie baker, so check out her wonderful creations!


Now I am passing it off to the following five bloggers. I did not see "rules" for this one, if I was supposed to do more, let me know!
I also want to thank Mojito Maven of Make Mine a Mojito for choosing me to receive the Brillante Weblog award! I am a new reader of Make Mine a Mojito, but I have really enjoyed her posts…she is racking up some awards so check her out. Plus…anyone that loves Mojitos is rad in my book!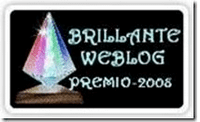 Here are the rules to the award:
when you received a diamond, make a post about it on your blog

name the blogger from whom you got it

award the diamonds to seven other

bloggers

link them

and tell them they got one.

Here are my recipients:
Thanks again to Mojito Maven and Cathy!!! :)