Our sweet baby Elle turned 3 months old last week and I'm still having a hard time wrapping my head around this fact. When people tell you that time flies by, they're most definitely not kidding. She's gone from an adorable newborn to a little human that's full of personality, the cutest smiles and little giggles.
So much has changed over the past 3 months and every single one of those changes is for the better. Sure there's less time for blogging, sleeping and doing my hair, but I'm so smitten with her, none of that matters. I'll happily blog a little less, sleep for only about 5 hours, and rock a bun on a daily basis to spend just a little more time with Elle.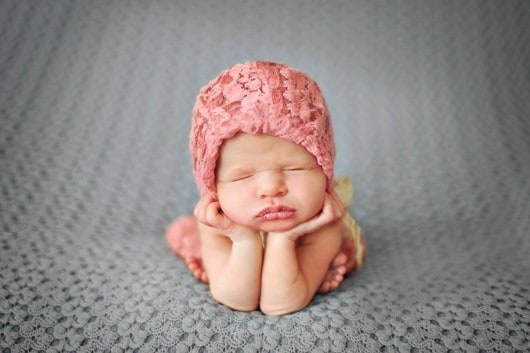 When friends would say, "I can't imagine my life before my baby," I was never really able to grasp the statement. Sure having a baby changes so many things, but that statement becomes so profound once you hold your baby in your arms. At that moment, you truly can't imagine your life any other way and that feeling only gets stronger with each passing day.
Since I haven't shared any of her newborn photos here on MBA, I just had to post a few of them from the session we had with Rachel Marie Photography in Brunswick, Ohio. If you live the Ohio area, I can't recommend her enough!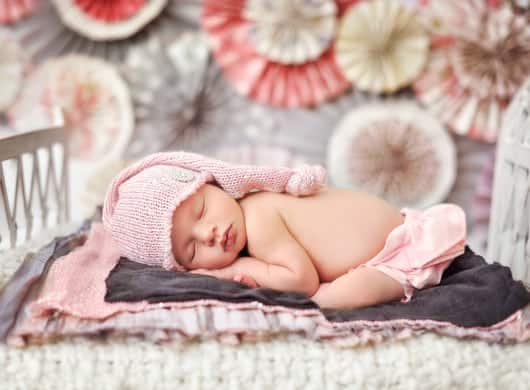 The Details
Elle weighs almost 14 pounds and is measuring 24.5 inches in length. She is currently wearing 0-3 month clothing; however, we're thinking she'll be transitioning into 3-6 months very soon since most of her pants are high waters.
She is super smiley and drooly – she's known to soak a shirt sleeve in a matter of minutes!
If you follow me on Instagram, you know that bath time is her absolute favorite time of day. She is in love with her daddy – her face lights up every time he talks to her in his Elmo voice! She adores listening to Rockabye Baby on Pandora and watching Golden Girls – just like her mama!
She's been sleeping through the night since she was 5 weeks, so she's pretty much the best baby ever.
She's had several nicknames since birth, but only one stuck and that's Bird, Birdie or Baby Bird.
To see more of Elle, be sure to follow us on Instagram!