It's incredibly hot and humid in Ohio. Hot weather makes me all itchy and crabby, so when I realized that it was going to be another scorcher today, I decided to stay inside and watch countless episodes of Hardcore Pawn. I'm not much of a TV watcher, but something about these pawn and storage locker shows hooks me instantly.
Aside from the drama, I think I'm mildly enthralled with Les's locks and collection of beige v-neck sweaters and black leather jackets. My dad was over the other day, and when he realized my DVR was brimming with episodes of Hardcore Pawn, he tried to steer me in the direction of Lizard Lick Towing, but I steadfastly refused. I have to draw the line somewhere, right?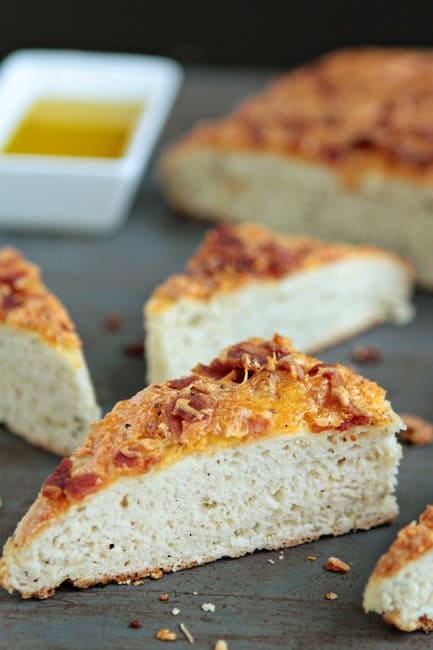 In between Hardcore Pawn episodes, staring out my condensation-covered windows and folding laundry, I decided to make a feeble attempt at organizing the image files on my computer. I came across the photos of this Bacon and Cheese Focaccia and realized that I haven't shared it with you yet.
It's loaded with herbs and topped with killer combination of bacon and cheese, so how could this ever be a bad thing?
Homemade bread can be quite intimidating, but I assure you that this recipe couldn't easier – in fact, I'd even say that it's pretty foolproof.
This easy, cheesy focaccia is perfect for dipping in a little extra virgin olive oil or as a sandwich bread. However you decide to serve it, I promise it will be delicious.
[pinit]

Bacon and Cheese Focaccia Bread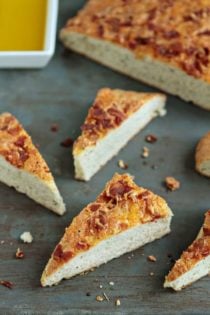 Ingredients:
2 3/4 cups all-purpose flour
1 tablespoon instant yeast
1 tablespoon sugar
3/4 teaspoon salt
1/2 teaspoon freshly ground black pepper
1 teaspoon garlic powder
1 teaspoon dried oregano
1 teaspoon dried rosemary
½ teaspoon dried basil
1 cup warm water
3 tablespoons olive oil, divided use
2 cups (8 oz.) Sargento Colby-Jack Cheese
5 slices bacon, crisply cooked and crumbled
Directions:
1. In a large bowl, stir together the flour, yeast, sugar, salt, pepper, garlic powder, oregano, rosemary and basil. Add in 2 tablespoons of olive oil and warm water.
2. When the dough comes together, turn it out onto a lightly floured surface, and knead until smooth and elastic.
3. Oil a large bowl and place the dough into the bowl, turning it to coat with oil. Cover and let rest in a warm place for 20 minutes.
4. Preheat oven to 350° F. Grease large baking sheet. With flour-dusted hands, press dough into 14x12-inch flat oval on baking sheet.
5. Brush the top of the loaf with the remaining 1 tablespoon of olive oil. Sprinkle the top of the loaf with cheese and bacon.
6. Bake in preheated oven for 20-25 minutes or until golden brown. Serve warm or at room temperature.
Follow Jamie on Instagram. We love to see what you're baking from MBA! Be sure to tag @jamiemba and use the hashtag #mbarecipes!
Disclosure:
This is a sponsored post written by me for Sargento Cheese. I was compensated for this post.