Last month I was searching the web with the aid of google for some baking related products. I wanted to purchase new cookie cutters, festive sprinkles and cupcake liners. Initially, my search would have required me to order from three companies to get all the products I wanted because my search was quite specific. However, I was determined to find a website that had everything I needed in stock and would ship before my holiday baking madness began. With a little more searching, I came across a website that had everything I needed and they claimed to ship 99% of orders the same day they were placed. This seemed like a baker's dream company, so I placed a small order ($30.00) with them.
I am an avid online shopper and in the countless orders I have made throughout the last 10 years I have never received customer service like I experienced with shopbakersnook.com. I had a shipment confirmation in my mailbox within two hours of placing the order AND it arrived on my doorstep within 2 days. Everything was packed beautifully and arrived in excellent condition. I was so floored with their customer service I sent the company an email praising them for their efforts! I went back to their website compelled to place another order for random holiday flair. While browsing, I realized that they are quite close to my area and are located in Saline, Michigan which is about a 45 minute drive from my house. The Baker's Nook is also a bakery and employs some extremely talented cake designers. You can check out their online gallery, to see photos of some seriously drool worthy cakes!
The CEO, Brian, replied to my email and we spoke at length via the telephone. I commended him for a job well done and expressed my sincere gratitude for a family operated company with a customer centered business approach. Brian explained that their site is "live time inventory" so, if you see it on their site, it's in stock and ready to be shipped. For an online company of a mere 2 years, shopbakersnook.com is doing great things. They are an amazing company that will have my business for many years to come.
Brian and I also arranged a little giveaway…He so graciously sent me all of the items pictured below to give away on my site. I am also going to add a couple of surprises as well!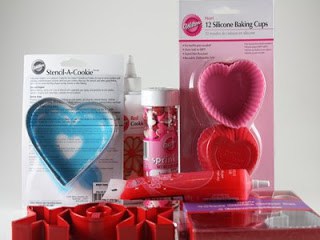 Here are the links to all of the items:
How do you win? Leave a comment and tell be about recipes that remind you of Valentine's Day (it would be great if you left links as well).
The Rules…
1.) Open to U.S.A. residents only.
2.) One winner will be chosen on 1/16/09 by using random.org.
3.) Make sure that I have a way to contact you when you leave a comment; either through your blog or an email.
4.) One comment per person, please.
5.) I will contact the winner via email or commenting on their winner's site.
6.) You have until 1/20/09 to claim the prize, or I will have to choose another winner.