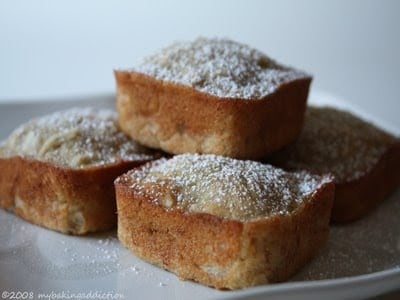 I had four really brown (disgusting) bananas hanging out on my counter which left me with two options a.) throw them in the trash or b.) make something banana-y. I decided to go with the latter and make some bread. I love banana bread especially when it is smeared with some butter. I have tried many recipes and have a great recipe that I use on a regular basis, but something intrigued me about the recipe I found on the Hungry Housewife's blog. She posted about a banana bread that had coconut, walnuts and blueberries in it. This recipe looked and sounded delicious, so I thought I would go ahead and see if this was in fact the "Ultimate Banana Bread." When I made this, I decided to leave out the blueberries…not for any particular reason, I just wasn't in a blueberry mood. The recipe, as stated, makes two loaves, I decided to make 12 mini loaves and 1 regular sized loaf. The square muffin pan I used is from Target and is made by Calphalon. The recipe came together quickly and easily and I was almost drooling as this baked because my home was filled with the sweet nutty fragrance of banana bread. This is a great recipe and the coconut flavor adds a wonderful sweetness without being too over the top. Thanks for this great recipe, Leslie…I will make this one again! Enjoy!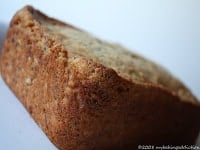 To check out the square muffin pan click here.
To check out Leslie's recipe click here.