First, I would like to happily say that part one of my exam is finished and turned in to the university! Thank you for your kind words and support!
I would also like to inform you that my diet of sour gummy worms and coca-cola has been swapped out for real food, although I think I may be suffering from caffeine and sugar withdrawal symptoms as a result. Now that I am free for a few days, I figured I would try to get a couple of posts up.
This one is for a cake I saw on Ingrid's site last week and made it the very next day! The only thing I adapted from Ingrid's version was the caramel. I decided to make a caramel icing and pour over the top of my cakes.
I used one bundt pan and one mini bundt pan, for pics. I sent this to work with Bri and it was gobbled up in no time. Someone even proclaimed that it was the best damn banana bread ever!
I found this cake to be amazingly delicious and the perfect way to use up browning bananas! Thanks for visiting and be sure to check out my giveaway!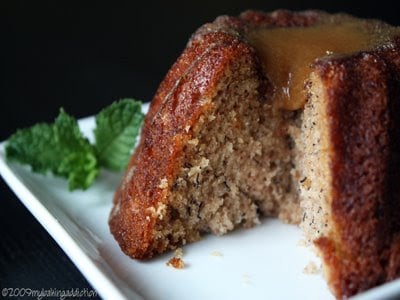 Banana Caramel Cake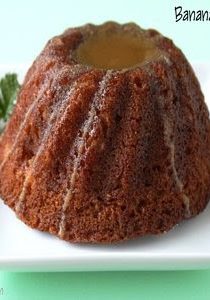 Ingredients:
For the Cake
2 cups (280g) all-purpose flour
1 teaspoon cinnamon
1/2 teaspoon nutmeg (freshly grated)
1/4 teaspoon cloves
1 teaspoon salt
1 teaspoon baking soda
3 large eggs
1 1/4 cups (300ml) vegetable oil (or canola oil as in the original recipe)
1 3/4 cups (350g) sugar
1 tablespoon vanilla extract
3/4 cup (75g) coarsely chopped walnuts (omitted)
85g (3oz) dark chocolate, broken into small pieces (size of chips)(omitted)
3 ripe bananas, diced
For the Caramel Sauce
1/2 cup (88g) firmly packed brown sugar
2 tablespoons whole milk
4 tablespoons (56g) unsalted butter, cut into pieces
Directions:
1. Butter and flour a tube pan or a bundt pan that can hold 12 cups*; preheat the oven to 180°C/350°F.
2. Sift together flour, cinnamon, nutmeg, cloves, salt and baking soda.
3. In the bowl of a stand mixer, combine the eggs, oil and sugar. With the paddle attachment, mix on medium speed for 2 to 3 minutes.
4. Scrape down the sides of the bowl to ensure that the sugar has been incorporated.
5. Add the vanilla extract and mix for another 30 seconds.
6. With the mixer on low speed, add the dry ingredients a bit at a time. Scrape down the sides of the bowl every now and then to ensure everything is incorporated.
7. Once the dry ingredients have been added, remove the bowl from the stand mixer and add the walnuts, chocolate and bananas. Gently fold them in with a spatula or a wooden spoon. Don't over mix.
8. Spoon the batter into the prepared pan. Bake for 50 minutes and then test the cake to see if it's done by poking a toothpick or cake tester into the centre of the cake. If it comes out clean, it's done. If not, bake the cake for another 5 to 10 minutes. (my large bundt was done in 50 minutes; the mini in 30)
9. About 5 to 10 minutes before the cake is done, make the caramel by combining all the ingredients in a small pan. Bring to the boil and stir occasionally to ensure that it doesn't burn. Let it boil for about 5 minutes and then turn off the heat.
10. Once the cake is out of the oven, poke holes all over the cake with a skewer. Immediately pour the caramel over the cake, stopping every now and then to let the caramel sink in. If the caramel pools in spots, poke more holes to allow it to sink in.
11. Let the cake cool in the pan on a wire rack. Once it's cool, loosen the cake from the sides of the pan and then unmold it onto a plate.
Notes:
Click Here if you are interested in the caramel icing I used. I cut the recipe in half.
Follow Jamie on Instagram. We love to see what you're baking from MBA! Be sure to tag @jamiemba and use the hashtag #mbarecipes!
[pinit]