I have made many banana bread recipes, but this one is by far my favorite. This recipe yields an absolutely delicious, moist muffin with a delectable crunchy crumb topping.
I honestly think I have made this recipe well over twenty times. My co-workers actually bring me their brown bananas to make these for them. You can tweak this recipe any way you want, I have added nuts, added cream cheese frosting, added chocolate frosting, made mini muffins – the variations are endless!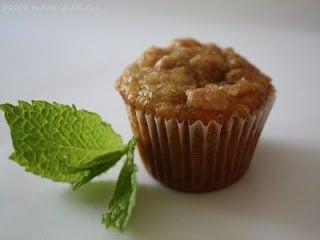 Banana Crumb Muffins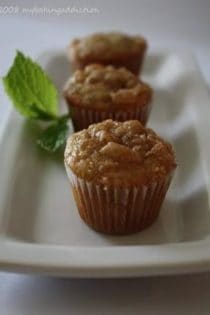 Ingredients:
For the Banana Muffins
1 1/2 cups all-purpose flour
1 teaspoon baking soda
1 teaspoon baking powder
1/2 teaspoon salt
3 large bananas, mashed
3/4 cup white sugar
1 egg, lightly beaten
1/3 cup butter, melted
1/2 teaspoon cinnamon
For the Crumb Topping
1/3 cup packed brown sugar
2 tablespoons all-purpose flour
1/8 teaspoon ground cinnamon
1 tablespoon butter
Directions:
1. Preheat oven to 375°F (190°C). Lightly grease 10 muffin cups, or line with muffin papers.
2. In a large bowl, mix together 1 1/2 cups flour, baking soda, baking powder and salt.
3. In another bowl, beat together bananas, sugar, egg and melted butter. Stir the banana mixture into the flour mixture just until moistened. Spoon batter into prepared muffin cups.
4. In a small bowl, mix together brown sugar, 2 tablespoons flour and cinnamon. Cut in 1 tablespoon butter until mixture resembles coarse cornmeal. Sprinkle topping over muffins.
5. Bake in preheated oven for 18 to 20 minutes, until a toothpick inserted into center of a muffin comes out clean.
- adapted from allrecipes
All images and text ©
Follow Jamie on Instagram. We love to see what you're baking from MBA! Be sure to tag @jamiemba and use the hashtag #mbarecipes!
[pinit]