Peaches. I love peaches. I have been slacking on my Barefoot Blogger posts, but when I saw this recipe, chosen by Aggie of Aggie's Kitchen, I knew this one would definitely get whipped up in my kitchen.
I had every intention of making this last night, but I ran out of time, so I woke up this morning and threw it together rather quickly. I scaled the recipe down quite a bit to accommodate only two ramekins. Usually I have a decent amount of self-control and can practice restraint when it comes to the consumption of baked goods. However, on top of the peaches, this recipe has a crumb topping.
Crumb topping is one of my greatest weaknesses, so I felt it was highly necessary to scale it down to only two portions; both of which I may consume by 3 pm! It's healthy because it's fruit, right?!?
This recipe was quite the palette pleaser and would be absolutely amazing if topped with a scoop of vanilla bean ice cream or a dollop of freshly whipped cream.
Have a scrumptious day! Now please excuse me while I go eat a ramekin full of fruity crumble goodness. Oh, and if you follow me on twitter, you know about my twitter only giveaway, so submit those cherry recipes!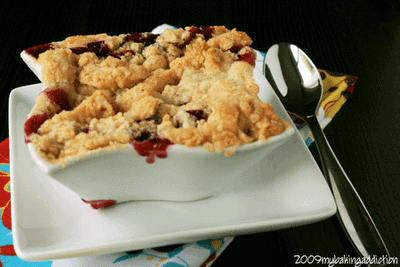 Peach & Blueberry Crumble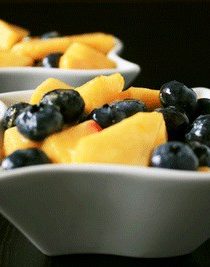 Ingredients:
For the Fruit
2 lbs firm, ripe peaches (6-8 peaches)
2 teaspoons grated lemon zest
2 tablespoons freshly squeezed lemon juice
1/2 cup granulated sugar
1/4 cup all-purpose flour
1 cup fresh blueberries (1/2 pint)
For the Crumble
1 cup all-purpose flour
1/2 cup granulated sugar
1/4 cup light brown sugar, lightly packed
1/2 teaspoon kosher salt
1/4 teaspoon ground cinnamon
8 tablespoons (1 stick) cold unsalted butter, diced
Directions:
1. Preheat the oven to 350°F.
2. Immerse the peaches in boiling water for 30 seconds to 1 minute, until their skins peel off easily. Place them immediately in cold water. Peel the peaches, slice them into thick wedges, and place them in a large bowl. Add the lemon zest, lemon juice, granulated sugar, and flour. Toss well. Gently mix in the blueberries. Allow the mixture to sit for 5 minutes. Spoon the mixture into ramekins or custard cups.
3. For the topping, combine the flour, granulated sugar, brown sugar, salt, cinnamon, and the butter in the bowl of an electric mixer fitted with a paddle attachment. Mix on low speed until the butter is the size of peas. Rub the mixture with your fingertips until it's in big crumbles, then sprinkle evenly over the fruit. Place the ramekins on a sheet pan lined with parchment paper and back for 40 to 45 minutes, until the tops are browned and crisp and the juices are bubbly. Serve warm or at room temperature. If you want to make these early, store the unbaked crumbles in the refrigerator and bake before dinner.
Notes:
- from The Barefoot Contessa at Home
All images and text ©
Follow Jamie on Instagram. We love to see what you're baking from MBA! Be sure to tag @jamiemba and use the hashtag #mbarecipes!
[pinit]