Sometimes, I am an incredible planner. However, most of the time, I am not. I had planned on posting this recipe last week while I was out of town, but I became enthralled with episodes of Big Brother, stop judging me and packing and unpacking like 18 pairs of shoes.
I traveled to New Jersey for a couple of days to hang out with Amber and then headed to PA with Green Mountain Coffee for Big Summer Potluck.
I always hype up myself before embarking on journeys that require encounters with new people. I'm socially awkward and although I fully embrace this facet of my personality, new people is not something that I do well. I can easily appear to be standoffish – not because I'm bitchy although I can be and Brian will attest to that, but more because engaging in new interactions is not one of my strengths.
Plus, I always end up in an awkward situation that typically entails food in my teeth, toilet paper stuck to my shoe or something else random that makes me wonder why I went in public to begin with.
Being a blogger, I can kind of hide behind my computer and edit myself tremendously during an interaction, but in person, that luxury simply doesn't exist. So I had to suck it up, embrace my nervous fits of profanity and hope that I packed the right shoes.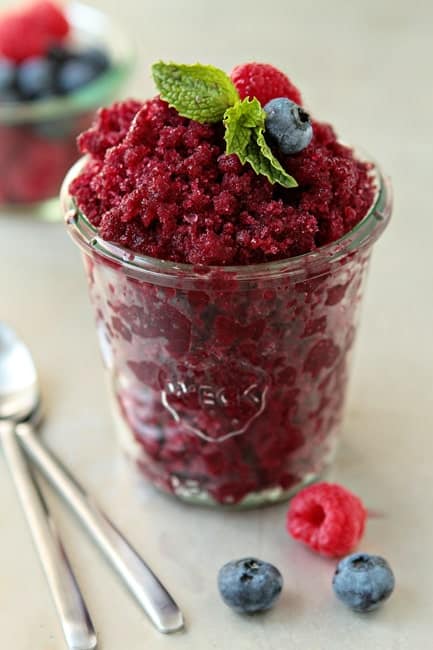 I'm not much of conference attendee due the aforementioned social anxiety situation, but the Big Summer Potluck is a bit different. It's a little more intimate, a little more low key, but full of great friends, inspiration and of course – food. The best part of BSP was connecting with people like Jen, Paula, Kristen, Megan, Aimee, Shaina and so many others that I've only known through a computer monitor. Seeing and talking with people in person is good stuff – I think I may need to do it more often!
Berry Burst Granita uses the new Acai Berry Vitamin Burst K-Cup™. This specialty crafted K-Cup™ is designed to be brewed over ice – it's caffeine free, naturally sweetened, full of vitamin C and bursting with delicious berry flavor. I blended this sweet, invigorating beverage with fresh summer berries to create a refreshing dessert perfect for the hot Summer days of August.
Moral of the story? Make granita and totally embrace your awkwardness – people aren't really as scary as we make them out to be in our heads.
[pinit]

Berry Burst Granita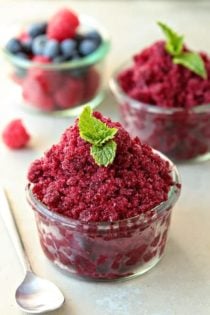 Ingredients:
Acai Berry Vitamin Burst brewed over ice (10 ounce setting)
3/4 cup fresh strawberries
3/4 cup fresh bluberries
1/2 cup fresh raspberries
Directions:
1. Strain the ice from the brewed Acai Berry Vitamin Burst and pour it into a blender. Add in the fresh berries and blend until the mixture is smooth. Give the mixture a taste, if it is not sweet enough, add in a little sugar until you reach the desired level of sweetness. My berries were sweet enough, so I did not add any sugar.
2. Pour mixture into a 9-inch square pan or dish and freeze, stirring and raking the mixture with a fork 30 minutes or so, until frozen, 4 to 6 hours. Scrape the mixture with the tines of fork before serving. Cover tightly and freeze. Scrape granita into bowls, garnish with berries and serve.
Notes:
- Granita can be made up to one day in advance.
All images and text ©
Follow Jamie on Instagram. We love to see what you're baking from MBA! Be sure to tag @jamiemba and use the hashtag #mbarecipes!