It's hot, way hot. I'm talking 97 degrees hot. I don't do well with heat, it makes me crabby and itchy. And I don't enjoy being crabby or itchy.
Last week Keurig came to my rescue when I received my monthly K-Cup shipment full of their Brew Over Ice varieties. As I made my way through the box it became increasingly clear that my summer was about to get a lot better and a lot cooler.
I don't drink a lot of coffee in the summer, but I am a serious iced tea addict so I was pumped to find numerous flavors of iced tea including the Sweet Berry Lime variety that I used to make these festive Berry-Lime Popsicles.
I also discovered the awesomeness that is Iced Vanilla Coffee. It's my 5pm go-to beverage for a quick pick me up and I've learned that it's also pretty darn tasty if you add a little liqueur to them. Godiva + Iced Vanilla Coffee pretty much equals summer survival in a glass.
Speaking of summer survival, how about these fruit filled patriotic pops? They couldn't be easier, tastier or more adorable for this weekend. I'm not providing a specific recipe, just a method that can be easily adapted to meet your specific tastes.
If you happen to have a Keurig and are looking for a way to beat the heat, you can use the code below to earn 15% off Brew Over Ice K-Cup portion packs through July 20th, 2011 on GreenMountainCoffee.com.
I hope you have a great holiday weekend full of amazing family, friends, fireworks and of course, food!
July Code

Use the code AM002-3568. This code offers 15% off Brew Over Ice K-Cup portion packs AND Free Standard Shipping within the contiguous US through July 20th, 2011 on GreenMountainCoffee.com

This offer cannot be combined with any other offer or discount, including Café EXPRESS discounts.
Berry-Lime Popsicles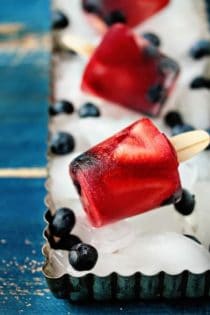 Ingredients:
8 3-ounce plastic cups
sliced strawberries
blueberries
12 ounces Berry Lime Iced Tea
Directions:
1. Fill each cup halfway full with fresh fruit. Add about 1.5 ounces of Berry Lime Iced Tea to fill each cup. Do not overfill.
2. Cover each cup with a small piece of foil and insert a popsicle stick into the center of each cup.
3. Freeze for at least 4 hours.
All images and text ©
Follow Jamie on Instagram. We love to see what you're baking from MBA! Be sure to tag @jamiemba and use the hashtag #mbarecipes!
Disclosure: This post is sponsored by Keurig. The views and opinions expressed on My Baking Addiction are purely my own and based upon my personal experiences with the Keurig Brewing System and K-Cup Varieties.