I know things have been pretty darn quiet around here in recent months. In fact, I've started to receive emails and Facebook messages asking why I've been so absent on MBA and social media. No, I haven't fallen off the face of the planet, nor am I over the whole blogging thing.
I've just been a little tired, mildly irritable and baking – well, it hasn't really been my thing – unless we're talking about s'mores that I make in the microwave. And let's face it, no one wants to read about microwave s'mores one million times. Have ya caught on yet? I'm sure you have because you guys are super smart.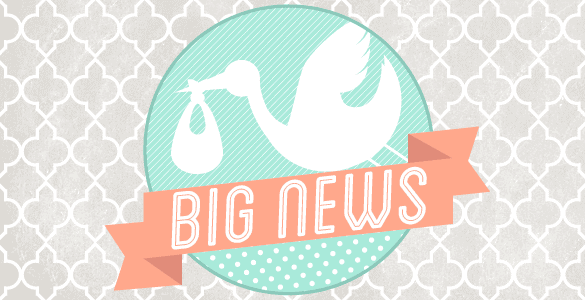 Yep, Eric and I are expecting a baby this winter, or if ya want to get a little cliché for a baking blog – I've got a bun in the oven! A perfectly healthy bun that's moving around like crazy and giving me acne like it's 1992. Despite the acne, cravings for salt and vinegar chips and random bouts of crying, I've loved every minute of it, and we couldn't be more excited.
The Details
– I'm 20 weeks pregnant. According to The Bump, the baby is about the size of a long banana – 6.5 inches long and 10.6 ounces. These fruit references make me laugh. What exactly is a rutabaga anyways?
– I'm due February 1, 2014.
– I'm pretty obsessed with pregnancy apps – What to Expect and The Bump are amongst my faves.
– I'm officially in maternity pants – for the most part, but maternity shirts are still a bit too big and make me look like I'm wearing a tent. Not cute.
– Cravings: Salt and Vinegar Chips, S'mores, generic ice pops and salad.
– I've reignited my love affair with Pinterest and can now make my baby boards public. Ya know, it's not official until it's on the blog!
– I'm addicted to baby clothes – it's become a pretty serious issue. Baby Gap – it will break me, or bankrupt me trying.
– Yes, we will be letting you know if it's a boy or girl in coming weeks! Stay tuned.
So there you have it. I swear I didn't give up on you, and I most definitely didn't give up chocolate, pumpkin, or eating baked goods like it's my j-o-b. It's really just been that I didn't quite realize how difficult growing a human can actually be. You guys, this is holy exhausting most days!
I also keep trying to find the words to tell you about how enamored with this guy I am. Eric has been nothing short of amazing at caring for me and the baby, learning along with me about all the changes happening, and putting up with my amped-up-more-than-ever crazy. There really aren't words that will convey exactly how excited, happy, in love, and all around glad I am that he's my partner in this big adventure. But, I guess if I'm making things blog official, this is the best way to do it – Eric, thank you for being you, and for loving me despite my crazy. You're pretty much the most amazing person on the planet.
So, did I completely surprise you guys or what?!