If you have a hankering for a giant chocolate chip cookie, you've come to the right place. This recipe is for yet another Levain Bakery copycat… I made these because after tasting the Chocolate Chocolate Chip Levain knock-off, Brian was yearning for a HUGE regular chocolate chip cookie. I had to oblige him, right?
I headed back to Lisa's blog and read through her Chocolate Chip Walnut Cookie recipe. I used this as my base and tweaked it a bit, of course leaving out the walnuts for Brian. The results were absolutely amazing… especially after leaving the dough in the fridge overnight. These are now Brian's favorite chocolate chip cookies, making the Extraordinary Chocolate Chip Cookies fall down a notch to second place.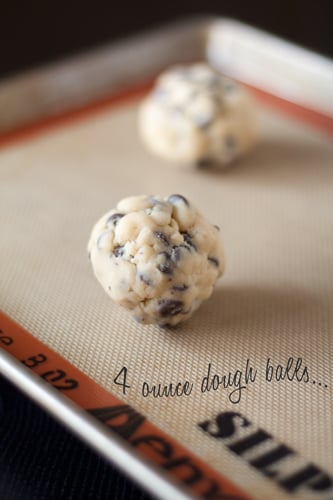 Do they compare to Levain's Chocolate Walnut Cookies? Again, I have no clue because I have never tasted one… maybe I need to order some Levain cookies so I have a baseline to compare to? Honestly this recipe is so impressive I really don't care if they are an accurate copycat or not!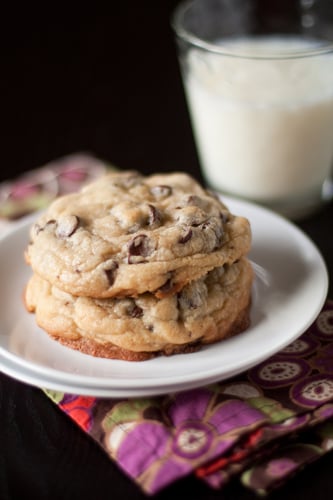 If you have a chocolate chip cookie connoisseur in your family, definitely give this recipe a try…they are huge, gooey and chocolatey, so really what's not to love?

Big Chocolate Chip Cookies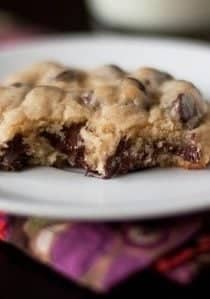 Ingredients:
2 sticks cold and cubed unsalted butter
1 cup granulated sugar
1 cup light brown sugar
2 eggs
1 tsp pure vanilla extract
2 3/4 cup all purpose flour
1 teaspoon table or fine sea salt
1 teaspoon baking powder
1/4 tsp baking soda
2 1/2 cups good quality semisweet chocolate chips or chunks
1 cup of chopped walnuts (optional)
Directions:
Preheat oven to 375 degrees.
1. In bowl of electric mixer fitted with paddle, cream together butter and sugars until well blended and fluffy. Add eggs, one at a time, mix in vanilla and beat until well incorporated.
2. Add flour, salt, baking soda, baking powder and mix until just combined. Gently fold in chocolate chips/chunks and nuts.
3. Transfer dough to clean work surface and gently mix dough by hand to ensure even distribution of ingredients.
4. Weigh out the dough into 4 ounce portions and gently roll into a ball. (I got ten 4 ounce cookies out of this dough).
5. Place each on sheet pan lined with parchment paper and bake in the preheated oven 15-20 minutes depending on how gooey and rawish you like the interior, until very lightly browned, taking care not to overbake. I baked mine for 16 minutes, which seemed to be perfect in my oven.
6. Let cool on rack and store what you don't immediately eat in an airtight container.
Notes:
- These are best eaten on the day they are made (ESPECIALLY warm out of the oven – like most chocolate chip cookies).
- To freshen them after a few days (if they last that long), give them a quick nuke in the microwave for 5-10 seconds.
- I did not attempt to make these smaller than 4 ounces. I am sure they will be equally as amazing, you'll just have to play with the baking time.
Follow Jamie on Instagram. We love to see what you're baking from MBA! Be sure to tag @jamiemba and use the hashtag #mbarecipes!
[pinit]