Can you tell that I am going through a bit of a cupcake phase? I have a list of about 12 flavor combinations that I want to create and that list just keeps getting longer and more delicious. These Black Tie Cupcakes are a definite crowd pleaser and came about after buying a large package of cream cheese from Costco.
Have I mentioned my love affair with Costco yet? I think I could wander around that place for hours nibbling on tasty samples and ogling at all the delicious items in their bakery. Plus, they carry bulk Gushers and what can I say, I love me some Gushers. Hmmm maybe I need to create a Gusher Cupcake!
I started out with an espresso infused chocolate cake. The coffee component is not really detectable; it is simply added to bring out the rich and intense flavor of chocolate. I then used my apple corer to remove a small area of cake and filled the cupcakes with a simple ganache and topped them off with a decadent vanilla laced cream cheese frosting. After seeing Katie's recent post on CraftZine for chocolate curls, I knew this would be the perfect finishing touch to the pillow of cream cheese frosting.

Black Tie Cupcakes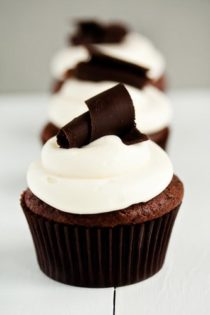 Ingredients:
For the Cupcakes
3/4 cup unsweetened cocoa powder
1 1/2 cups all-purpose flour
1 1/2 cups sugar
1 1/2 teaspoons baking soda
3/4 teaspoon baking powder
3/4 teaspoon salt
2 large eggs
2 teaspoons of instant espresso granules dissolved into 3/4 cup warm water
3/4 cup buttermilk
3 tablespoons vegetable oil
1 teaspoon pure vanilla extract
For the Ganache
3 tablespoons corn syrup
5 ounces heavy cream
12 ounces dark chocolate, chopped into small pieces
1/2 teaspoon vanilla extract
For the Frosting
16 ounces cream cheese, softened to room temperature
3 tablespoons vegetable shortening
6 tablespoons butter, softened to room temperature
2 pounds confectioners' sugar, sifted
2 teaspoons clear vanilla extract*
Directions:
For the Cupcakes
1. Preheat oven to 350 degrees. Line standard muffin tins with paper liners; set aside.
2. Sift together cocoa powder, flour, sugar, baking soda, baking powder, and salt into a large bowl.
3. Add eggs, espresso/water, buttermilk, oil, and vanilla. Mix with an electric mixer until smooth, taking care to scrape down the side of the bowl to fully incorporate all ingredients.
4. Using a large scoop, distribute the batter between 24 muffin wells, filling each well 2/3 full.
5. Bake in preheated oven for 18-22 minutes or until tops spring back when touched.
6. Transfer to a wire rack; let cool completely.
7. Once cupcakes have cooled, hollow out a small circle in the center of each cupcake; I use an apple corer because I am anal and obsessed with symmetry.
For the Ganache
In a small saucepan combine the corn syrup and heavy cream. Bring to a simmer and add the chocolate. Stir until smooth. Remove from the heat and add the vanilla extract. Allow to cool at room temperature for a 1/2 hour before filling cupcakes
For the Frosting
1. In a the bowl of a stand mixer fitted with the paddle attachment, cream together, cream cheese, shortening, and butter until well combined.
2. With the mixer of low, gradually add the confectioners' sugar until thoroughly incorporated and smooth. Add vanilla and mix to combine.
Notes:
- Store cupcakes in a sealed container in the refrigerator. Remove to room temperature 30-45 minutes before serving.
- Clear vanilla extract was used in the cream cheese frosting recipe to maintain a bright white color. Feel free to substitute pure vanilla extract in its place.
- Not a fan of shortening? Simply omit it. I find it adds a bit of stability to cream cheese frosting.
- Brown liners were purchased at Bake It Pretty.
- I used the large round tip from Bake it Pretty to frost the cupcakes. You can view my piping video tutorial within this post.
- Cake recipe is adapted from Martha Stewart's One Bowl Chocolate Cupcake, the ganache is from Alton Brown.
All images and text ©
Follow Jamie on Instagram. We love to see what you're baking from MBA! Be sure to tag @jamiemba and use the hashtag #mbarecipes!