I'm still on a mini hiatus, but I have another amazing guest post lined up for you. I'd like to introduce you to Cindy, the author and photographer behind the blog, Once Upon A Loaf. Cindy's site is all about bread, so you know this carb addict was immediately smitten. Cindy believes that if you can bake a good loaf of bread, you can rule the world – at least for a bit. And I tend to agree with her! So, roll up your sleeves, get those brown bananas off of your counter, and grab the bourbon because we're making Bourbon Banana Bread!

Hello, fellow MBA readers! I'm Cindy from Once Upon a Loaf, and I'm probably the greenest member of this *amazing* set of food bloggers I've met since joining their ranks in the blogosphere. I was thrilled when Jamie asked me to guest post, and I hemmed and hawed endlessly in choosing what I wanted to present today (just ask my husband).
So, the following is something I just had to get out of my system. It's fast, it's fun and it's a little…well, more fun than usual.
It all started a few weeks back during a little baking challenge for food bloggers on LOAF called Project PB&J. As I linked up each entry to the project post, my journalist twin sent a few random questions to each blogger to answer about herself so I could post a mini-bio with the recipe's link on the Facebook page.
Of my friend Katie, who's actually a molecular biologist and science blogger (and a lovely Brit who rocks it in the kitchen), I asked, "what's your ultimate naughty treat you'd love to have soon, and whom would you like to bake it for you?"
The answer: Bourbon Banana Bread. Baked by ME.
Hmm? Now, I'm not a sheltered little lamb, but I've never thunk of putting the hard stuff in one of my cherished quick breads. But, I was feeling it. And I aim to please. So I went to work.
Katie said she had a recipe, but I knew I'd use my own family BB go-to anyway, so I decided to man up to the liquor addition and come up with something to balance it on my own.
After some serious internal debate, I chose mini chocolate chips (everything's better with chocolate) and pecans as the nutty anchor to accompany a splash of gold ole Kentucky bourbon (or any other kind). They combine quite nicely, I must say, to make this a "girls night out" version of the most searched-for bread recipe on the internet. A bit naughty, a bit chocolately, and definitely saucy.
Oh, yeah.
Now, to get it to Katie in one piece!
Still working on that.
To Note
Pecans can be interchanged with walnuts and I'd love to hear from anyone who goes for butterscotch chips instead of chocolate and loves the results.
Banana-blackening Tip
Did you know you can speed up the banana-blackening process by baking ripe (as in no longer green) bananas in a 300° F oven for an hour, skins-on? Try it! (Skins will be completely black when they're done.)
[pinit]
Bourbon Banana Bread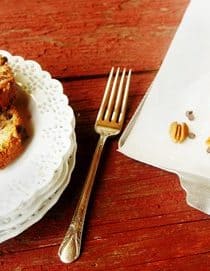 Ingredients:
1 3/4 cups all-purpose flour
1/4 tsp baking soda
2 tsp baking powder
1/2 tsp salt
1/3 cup butter, softened
2 eggs, well-beaten
2/3 cup sugar
1 cup mashed ripe bananas (about 3-4)
2 TBSP bourbon
1/2 tsp lemon juice
3/4 cup mini chocolate chips
3/4 cup chopped pecans
Directions:
1. Preheat oven to 350 degrees F. Coat a loaf pan with nonstick cooking spray.
2. In a medium-sized bowl, stir together flour, baking soda, baking powder and salt.
3. In another medium-sized bowl, mash bananas.
4. In a large bowl, cream butter with an electric mixer. Add well-beaten eggs, sugar and bananas. Beat on medium speed for three minutes. Add lemon juice and bourbon, beat 30 seconds.
5. Add flour mixture and beat until just combined.
6. Fold in chocolate chips and chopped pecans.
7. Pour into pan and bake for 50 minutes to an hour or until a toothpick inserted in top center comes out clean. Loaf should spring back slightly to the touch.
8. Cool completely on wire rack, wrap in foil. (For knock-out flavor, let sit 24 hours before eating.)
All images and text ©
Follow Jamie on Instagram. We love to see what you're baking from MBA! Be sure to tag @jamiemba and use the hashtag #mbarecipes!