I love Sundays. It's a day to relax, catch up with the DVR and cook a great dinner. Typically we wake up, clean, grocery shop and then make a pretty fabulous dinner and dessert. A couple of weeks ago I was given a bottle of Merlot and since I am not a huge wine drinker, I decided to cook with it.
After searching the web for recipes that incorporate wine, I decided to go with The Pioneer Women's recipe for Braised Short Ribs. I make a lot of Ree's recipes, but don't post many of them because…let's get real it's kind of hard to make the recipe sound better or look better than Ree does.
However, from time to time, a recipe comes along that *needs* to be posted…this is definitely one of those recipes! First of all, it's so simple to assemble and prepare it almost feels like cheating. Yeah there's a little browning involved, but that is really the most difficult step. Once that is done, you simply toss it into the oven and go about your day. Come back three hours later, whip together some risotto or mashed potatoes and and bask in the deliciousness. I guarantee your family will think you slaved in the kitchen all day to create such a rich, flavorful meal! Thanks for stopping by, have a delicious Sunday!
Oh one more thing! I created Facebook Fan Page. I would love if you checked it out and became a fan!
Braised Short Ribs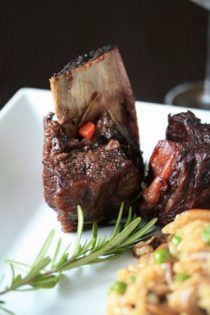 Ingredients:
8 whole Beef Short Ribs
Kosher Salt & Pepper To Taste
6 pieces Bacon, Diced
2 Tablespoons Olive Oil
1 whole Medium Onion, Diced
3 whole Carrots, Diced
2 whole Shallots, Peeled And Finely Minced
2 cups Red Wine
2 cups Beef Broth
2 sprigs Thyme
2 sprigs Rosemary
Directions:
1. Salt and pepper ribs. Set aside.
2. In a large dutch oven, cook bacon over medium heat until complete crispy and all fat is rendered. Remove bacon and set aside. Do not discard grease.
3. Add olive oil to pan with the bacon grease, and raise heat to high. Brown ribs on all sides, about 45 seconds per side. Remove ribs and set aside. Turn heat to medium.
4. Add onions, carrots, and shallots to pan and cook for 2 minutes. Pour in wine and scrape bottom of pan to release all the flavorful bits of glory. Bring to a boil and cook 2 minutes.
5. Add broth, 1 teaspoon kosher salt, and plenty of freshly ground black pepper. Taste and add more salt if needed. Add ribs to the liquid; they should be almost completely submerged. Add thyme and rosemary sprigs (whole) to the liquid.
6. Put on the lid and place into the oven. Cook at 350 for 2 hours, then reduce heat to 325 and cook for an additional 30 to 45 minutes. Ribs should be fork-tender and falling off the bone. Remove pan from oven and allow to sit for at least 20 minutes, lid on, before serving. At the last minute, skim fat off the top of the liquid. (Can also refrigerate mixture, then remove solid fat from the top.)
adapted from The Pioneer Woman
All images and text ©
Follow Jamie on Instagram. We love to see what you're baking from MBA! Be sure to tag @jamiemba and use the hashtag #mbarecipes!
[pinit]