Broccoli Beef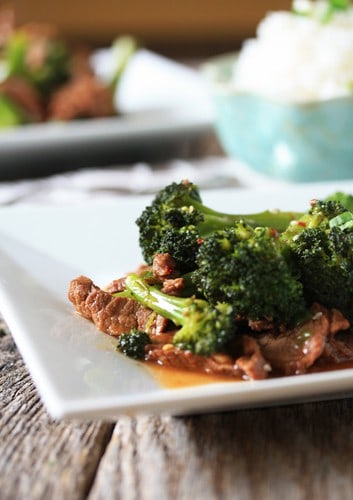 Wednesday night, I thought I would try my hand at cooking Broccoli Beef. I rarely make Asian inspired cuisine because honestly it's just easier to call one of our favorite restaurants and order some takeout.
I am a big fan of Cashew Chicken and Crab Rangoon, but I figured those may be a little out of my realm, so I opted for something that seemed a tad bit easier.
When looking for a recipe, I headed straight to the Steamy Kitchen site because I was pretty certain Jaden would have an amazing recipe for me to follow. My search at Steamy Kitchen led me a recipe that Jaden posted on Simply Recipes. After a quick glance through the ingredient list, I was pretty thrilled that I had everything on hand except oyster sauce. You know I hate those mid-week grocery trips, but I sucked it up and stopped into Kroger for the ingredient. Shockingly enough, my little Kroger had oyster sauce…albeit a very dusty bottle of oyster sauce.
I did adapt this recipe a little bit, spicing it up with some Sriracha and red pepper flakes. I also tossed in some toasted sesame seeds and sliced green onions, just because I'm crazy like that! I served this up with some jasmine rice and it was fabulous. Brian claimed it was better than the broccoli beef from our fave chinese restaurant. I am totally ordering Jaden's cookbook to get inspired; hell, I may even buy a wok!
Broccoli Beef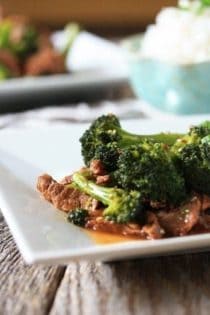 Ingredients:
For the Stir Fry
3/4 pound flank or sirloin, sliced thinly across the grain

3/4 pound broccoli florets

2 tablespoons high-heat cooking oil

2 cloves garlic, very finely minced or smushed through garlic smusher

1 teaspoon cornstarch, dissolved in 1 tablespoon water
For the Beef Marinade
1 teaspoon soy sauce

1 teaspoon Chinese rice wine (or dry sherry)

1/2 teaspoon cornstarch

1/8 teaspoon freshly ground black pepper

1 teaspoon of Sriracha
For the Sauce
2 tablespoons oyster sauce

1 teaspoon Chinese rice wine (or dry sherry)

1 tablespoon soy sauce

1/4 cup chicken broth (I used beef broth)
Directions:
1. Marinate the beef: Stir together the beef marinade ingredients in a medium bowl. Add the beef slices and stir until coated. Let stand for 10 minutes ( I let it marinate for 2 hours)
2. Prepare the sauce: Stir together the sauce ingredients in a small bowl.
3. Blanch the broccoli: Cook the broccoli in a small pot of boiling, salted water until tender-crisp, about 2 minutes. Drain thoroughly.
4. Heat a large frying pan or wok over high heat until a bead of water sizzles and instantly evaporates upon contact. Add the cooking oil and swirl to coat. Add the beef and immediately spread the beef out all over the surface of the wok or pan in a single layer (preferably not touching). Let the beef fry undisturbed for 1 minute.
5. Flip the beef slices over, add the garlic to the pan and fry for an additional 30 seconds to 1 minute until no longer pink.
6. Pour in the sauce, add the blanched broccoli and bring to a boil. Pour in the dissolved cornstarch and cook, stirring, until the sauce boils and thickens, 30 seconds.
Notes:
- I tossed in the green onions and toasted sesame seeds the last 30 seconds of cooking.
from Jaden Hair via Simply Recipes
All images and text ©
Follow Jamie on Instagram. We love to see what you're baking from MBA! Be sure to tag @jamiemba and use the hashtag #mbarecipes!
[pinit]
This post may contain affiliate links. We are a participant in the Amazon Services LLC Associates Program, an affiliate advertising program designed to provide a means for us to earn fees by linking to Amazon.com and affiliated sites.