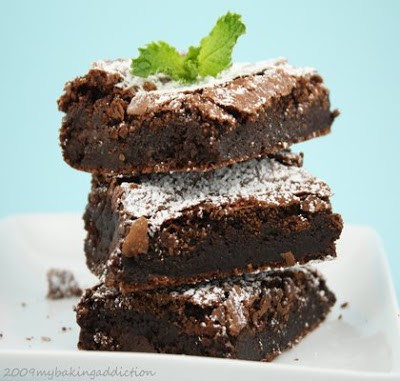 The good folks at Wilton contacted me and asked if they could send me a copy of their new book, Brownie Fun. Like most people, I don't mind free things at all, so I responded to their email and within a couple of days I had two copies of this book in my mailbox. Brownie Fun is filled with the cutest ideas for decorating brownies some of which create show-stopping results. Now I really have no use for two of these books, so I want to pass one along to one of my beloved readers! Continue reading for the rest of the goodies!
Well, my friends the fun does not stop there! Ever since I put ads up my site, I try to utilize some of that money to contribute to giveaways, because without you guys I would not earn any type of revenue from the ads. Although what I earn from my blog would never enable me to quit my day job (even though I totally wish it would) it is still a little bonus each month that enables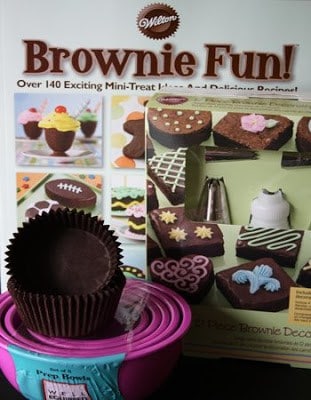 me to buy a plethora of cupcake liners and random pans that I rarely use!
So along with Brownie Fun, I have purchased a few things that may just tickle your fancy…
First on the list is a Wilton 12 piece Brownie Decorating Kit that I picked up at Target. The set contains 4 Decorating Tips, 1 Standard Coupler, 1 Decorating Triangle, 6 Disposable Decorating Bags and an Instruction Sheet.
Next, I am also including my absolute favorite cupcake liners in chocolate brown. These fantabulous liners are from Confectionery House and they rock my world! They stay super opaque and look amazing! They come in a variety of bright colors and the cutest polka dots…check them out!!!
I am also throwing a couple of jars of spring-y sprinkles to jazz up your brownies. I am a sprinkle addict, if I showed you a picture of my collection, some of you might feel the need to refer me for professional help! Last but certainly not least you will get a set of pink pinch bowls…I picked them up at TJ Maxx and I love them…mine are green…I stare at them often because they are too damn cute and were a great addition to my kitchen arsenal.
The Fudgy Brownies pictured above are from Brownie Fun, but the recipe is available to everyone on Wilton's website by clicking here. This recipe bakes up yummy fudgy brownies that would please just about anyone's picky palette. The boyfriend proclaimed these brownies to be "deee-licious," so even if ya aren't the lucky winner, you may just want to try this recipe!
Here is how to win…
Leave a comment telling others about your favorite kitchen gadget/product…that's it!
The Rules…
1.) Open to U.S.A. residents only.
2.) One winner will be chosen on 5/17/09 by using random.org.
3.) Make sure that I have a way to contact you when you leave a comment; either through your blog or an email.
4.) One comment per person, please.
5.) I will contact the winner via email or commenting on their winner's site.
6.) You have until 5/20/09 to claim the prize, or I will have to choose another winner.