Hey MBA readers! I hope you had an amazing Thanksgiving holiday. Today I have a really sweet treat for you in the form of a guest post from the lovely Emily of the blog, Jelly Toast. Emily emailed me a few weeks back and we quickly realized that we lived just a few miles apart, so we met for coffee and the rest was history. Welcome, Emily – I am so excited to have you here!
Hi everyone!
My name is Emily and I'm the caffeine driven cook, baker and photographer behind Jelly Toast. I can't tell you how excited I am to be here on My Baking Addiction. I may have squealed a little bit when Jamie asked me if I was interested in guest posting. I've been a long time reader of MBA so this is like walking the red carpet. Which also means I'll probably trip over my dress and sprawl out in front of everyone. Graceful, huh?
Grace or not, I love doing what I do. What is it that I do exactly? Well, I am a mom, wife, self-taught cook/baker, photographer and compulsive coffee drinker. All of which grace the recipes and ramblings over on Jelly Toast. I also love to root through my family's recipes, testing and tweaking things. Which translates to adding more chocolate. Or Cheese. I'm a huge fan of both.
What I cook and bake always reflects my mood, which is wildly influenced by the current season. Being a Fall and Winter fanatic, I go crazy about Thanksgiving food and am out-of-my-mind excited for holiday cookie baking. Seriously.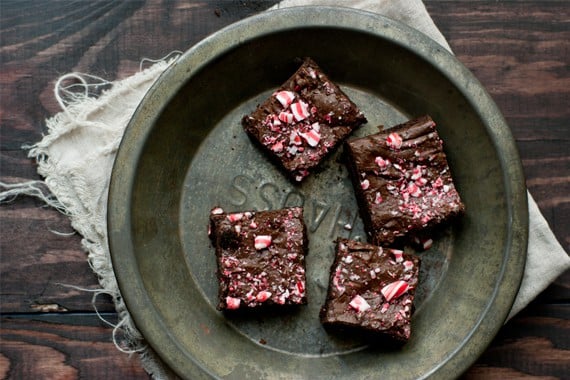 Speaking of holiday baking, I never like to show up at someone's house empty handed, especially around the holidays. So I brought you these brownies. Correction: I brought you these incredibly decadent Dark Chocolate Candy Cane Brownies. The awesome thing is, if you're not up for making the brownies from scratch, simply use your favorite box mix and layer with the candy and chocolate as directed.
These brownies are sure to get you into the holiday spirit. And don't worry if you eat them all. I've got another batch baking right now. Enjoy!
[pinit]

Candy Cane Brownies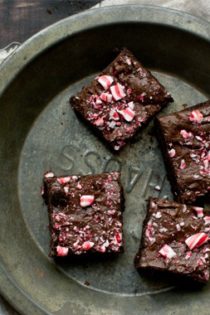 Ingredients:
6 tablespoons unsalted butter
6 ounces bittersweet chocolate chips (I used Ghirardelli)
1/4 cup unsweetened cocoa powder (I used Hershey's Special Dark)
3/4 cup all-purpose flour
1/4 teaspoon baking powder
1/4 teaspoon salt
1/2 cup granulated sugar
1/2 cup of brown sugar
2 large eggs
1 teaspoon pure vanilla extract
3 full sized peppermint candy canes, crushed
2 full sized (3.17oz) dark chocolate bars (I used Ghiradelli Intense Dark, Midnight Reverie)
Directions:
1. Preheat oven to 350°F.
2. Grease an 8-inch square baking pan with non-stick spray or softened butter. Line the pan with parchment paper; grease parchment paper (this ensures easy removal of brownies).
3. Place butter, chocolate, cocoa powder and 3 tablespoons of crushed candy canes (reserve the rest for the layering steps) in a heatproof medium bowl set over a pan of simmering water. Stir until butter and chocolate are melted. The candy canes will not completely melt, so small specks will remain in chocolate mixture. Remove from heat and allow to cool slightly.
4. In a separate bowl, whisk together flour, baking powder and salt. Set aside.
5. Place both kinds of sugar, eggs, and vanilla in the bowl of an electric mixer fitted with the whisk attachment, and beat on medium speed until pale and fluffy, about 2 minutes. Carefully add the chocolate mixture and beat until combined. Add flour mixture and beat, stopping to scrape down the sides of the bowls as needed, until ingredients are combined.
6. Pour half of the batter into prepared baking pan. Break the chocolate bars into squares and place them, evenly spaced, around the top of the brownie batter. Sprinkle with half of the reserved candy cane pieces. Top with the remaining batter and sprinkle the remaining candy cane pieces on top.
7. Bake for about 35 minutes or until a toothpick inserted in the brownies comes out with a few crumbs but is not wet. Allow the brownies to cool in the pan for 5 minutes. Lift the brownies out using the parchment paper and allow to completely cool on wire rack. Cut into 16 brownies. Eat and repeat.
Follow Jamie on Instagram. We love to see what you're baking from MBA! Be sure to tag @jamiemba and use the hashtag #mbarecipes!