If you follow food trends, you may have stumbled across some hype on the internet over Limited Edition Candy Corn Oreos. These festive cookies are being sold exclusively at Target and were released on September 10th. At first glance, the Candy Corn Oreos are quite unassuming; however, as soon as you twist off the top cookie layer, you'll find a two-toned orange and yellow cream filling. Now, the filling is supposed to taste like candy corn. Since I consider myself a candy corn connoisseur, I feel as though I am more than capable of judging the flavor.
Do they taste like candy corn? Sorta. If someone blindfolded you and shoved a Candy Corn Oreo in your mouth, would you be able to pinpoint the candy corn flavor? Maybe.
Personally, I can detect a subtle candy corn flavor, but I think my taste buds may be a little biased because I'm pretty particular about my candy corn – I'm a Brach's girl all the way. But I kinda get sucked into all things adorable, and these cookies are definitely adorable – so I think I can let the 'subtle' flavor slide. And let's get serious – it's an Oreo. An Oreo is a good thing, no matter what.
I tracked these suckers down – 2 days after their release date – and tossed five packages of them into my cart along with my new fave nude lip color (Revlon Lip Butter in Creme Brulee), blotting papers, and a new bottle of Essie nail polish that I'll never use. Seriously, I can't paint my nails to save my life – it's quite pathetic. Yet, much like limited edition Oreos, I simply cannot resist the gorgeous Essie colors.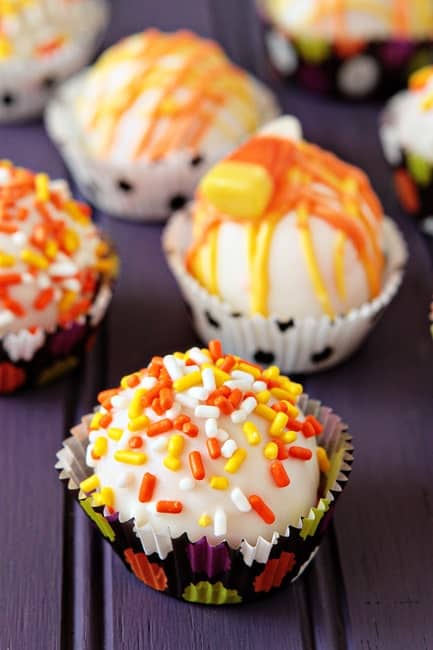 I spent Saturday fiddling around with recipes featuring Candy Corn Oreos, because you've simply got to make hay while the sun shines, amiright?
You know these babies are a HOT item when even my mom gets in on the hype and tries to track them down. Unfortunately, they're already beginning to sell out in many areas – including my home town, so I promised her that I'd mail her a package from my stash. Yay for Oreo hoarding daughters!
First up in my new arsenal of Limited Edition Oreo recipes, I'm sharing Candy Corn Oreo Truffles. Crushed Oreos are combined with cream cheese, dipped in candy melts, and jazzed up with festive sprinkles and candy corn.
Candy Corn Oreo Truffles are perfect for any Halloween spread and are a fun, no bake project for the kiddos. Take my advice – if you spot these cookies, do yourself a favor and toss a couple of packages into your cart because I have two more recipes featuring these adorable candy corn cookies in coming weeks.
[pinit]

Candy Corn Oreo Truffles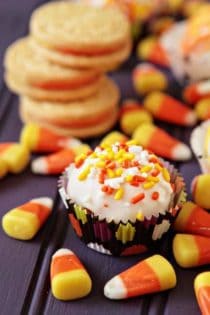 Ingredients:
1 (10.5 ounce) package Candy Corn Oreo Cookies
4 ounces cream cheese, softened
8 ounces Vanilla Candy Melts (see note below)
1.5 teaspoons vegetable shortening
For the Garnish
orange and yellow candy melts for drizzling
candy corn
festive sprinkles
Directions:
1. Using a food processor, crush all of the cookies into fine crumbs. If you don't have a food processor, you can crush the cookies in a resealable plastic bag using a rolling pin.
2. In a medium bowl, combine cookie crumbs and cream; mix until well blended. Line a baking sheet with parchment or wax paper. Roll cookie mixture into 12-15 balls, about 1-inch in diameter. Place the cookie balls onto prepared baking sheet and refrigerate the balls for about 45 minutes or until firm.
3. Melt the candy melts according to package directions. Stir in shortening. The shortening will thin the mixture down a bit. If the chocolate is still too thick, gradually add a bit more until you reach a desired consistency for dipping.
4. Dip balls in the melted candy melts and place back onto the prepared baking sheet. If desired, sprinkle the tops of the candy coated cookies balls with sprinkles, candy corn or drizzle with contrasting colors of melted candy melts.
5. Refrigerate until firm, about 1 hour. Store leftover truffles, covered, in refrigerator for up to 3 days.
Notes:
- I used Wilton Candy Melts. You can purchase them at Walmart, Target, Michael or Amazon.
- The cookies, sprinkles and mini cupcake liners were all purchased from Target in the Halloween section.
All images and text ©
Follow Jamie on Instagram. We love to see what you're baking from MBA! Be sure to tag @jamiemba and use the hashtag #mbarecipes!