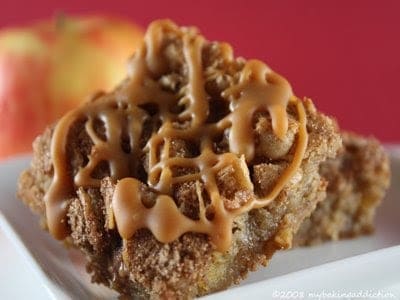 After a wonderful time at the local orchard this past weekend, I found myself wanting to make all things apple. Since I

believe

I may have over-purchased a bit, I wanted to get to baking. This

first

delectable apple treat I am going to share is a recipe for caramel apple squares. This recipe combines the delicious tastes of apples, brown sugar and caramel…they will leave you licking your fingers! I made these last night and the boyfriend took the entire 9×13 pan to work. He said they were gone so quick he did not even get one! Luckily, I had saved two for photo purposes, so he got to taste one of the scrumptious treats after dinner.
I do not not know if I am late to the party, but I need to rave about Honey Crisp Apples…they are amazing! I tried them for the first time last year, but to my disappointment came to find out that they are only available during specific times of the year. If you have never tried these and can get your hands on some…DO IT, they are amazing! I used Honey Crisp Apples in this recipe!
Caramel Apple Bars Adapted from allrecipes

Ingredients
2 cups sifted all-purpose flour
2 teaspoons baking powder
1/2 teaspoon salt
1/2 teaspoon ground cinnamon
1/2 cup butter or margarine, melted
1 cup packed brown sugar
1 cup white sugar
2 egg
2 teaspoons vanilla extract
1 cup chopped apple
1 cup finely chopped walnuts
1/4 cup white sugar
1 tablespoon and 1 teaspoon ground cinnamon Directions
1. Preheat oven to 350 degrees F (175 degrees C). Grease a 9×13 inch pan. Sift together flour, baking powder, salt, and 1/2 teaspoon of cinnamon; set aside.
2. In a large bowl, mix together melted butter, brown sugar, and 1 cup of white sugar with a wooden spoon until smooth. Stir in the eggs and vanilla. Blend in the flour mixture until just combined, then stir in the apples and walnuts.
3. Spread the mixture evenly into the prepared pan. In a cup or small bowl, stir together the remaining cinnamon and sugar; sprinkle over the top of the bars.
4. Bake for 30-35 minutes in preheated oven; finished bars should spring back when lightly touched. Cool in the pan, and cut into squares.
5. After these cooled I drizzled them with melted Kraft Caramel Bits! Enjoy!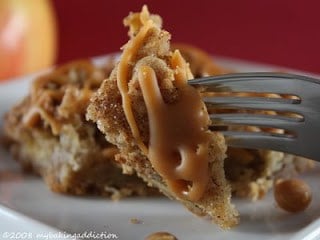 Up next TwD and a great way to use up that leftover Halloween candy!