I tore the November page off of my desk calendar last night. I've been staring at a gigantic diet coke stain for about 2 weeks and couldn't take it anymore. Although I'm a couple of days early, seeing December in big, bold letters across my desk made me feel flustered and anxious.
In theory, the holidays really shouldn't be all that stressful, but let's face it – they are. My holiday to-do list is a mile long. The rational side of me knows that I'll never accomplish everything on it, but the go-getter in me forces me to give it one hell of a shot.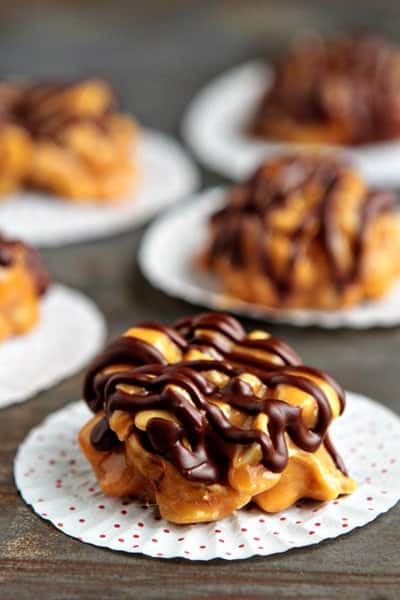 Because I know how crazy December can be, I decided to create a variety of recipes to share with you. Some will be a little more involved, but others will be incredibly simple like these Caramel Cashew Clusters. My hope is to arm you with a vast array of holiday recipes that will get you through any cookie swap, gift exchange, holiday party, or emotional eating extravaganza.
Today's post is all about simplicity. These Cashew Clusters only require a few ingredients; they come together in minutes and always end up disappearing just as quickly as you made them. I hope you adore this sweet and salty holiday candy as much as we do.