Caramel Crunch Bars…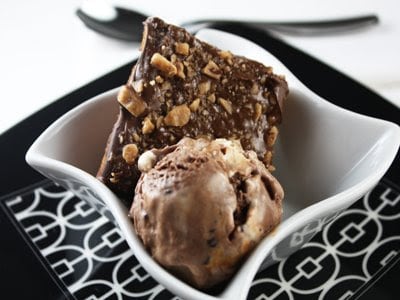 This week's recipe for Caramel Crunch Bars is hosted by, Whitney, of the blog, What's Left on the Table? I am a huge caramel fan, so I was pretty excited to see this recipe on the list for February. The picture in Dorie's book looks amazing, so I had some high expectations for these bars. After reading the P&Q on the TwD site, I decided to bake these in a 9×9 pan as opposed to the 9×13 that Dorie calls for in the recipe. The recipe came together in a snap and the dough was so delectable that I wanted to lick the bowl (I refrained for sanitary purposes as these were heading to the co-workers)! I did not modify anything except that I used semi-sweet chips as instead of bittersweet; this substitution is simply a personal preference. At home I served these bars with a scoop of Ben & Jerry's Karamel Sutra ice cream. For those of you that have never had this amazing creation, it's a core of soft caramel encircled by chocolate & caramel ice creams & fudge chips. Beware…this stuff is not low fat…I advise that you do not keep more than one in your freezer because it is sinfully delicious and HIGHLY addictive. Honestly I think it tacks on a few pounds to my booty every time it crosses my lips!
For the recipe, check out Whitney's blog or flip to pages 112-113 of Baking: From My Home to Yours. For more interpretations of this yummy bar, head over to the Tuesdays With Dorie site! Enjoy!
This post may contain affiliate links. We are a participant in the Amazon Services LLC Associates Program, an affiliate advertising program designed to provide a means for us to earn fees by linking to Amazon.com and affiliated sites.