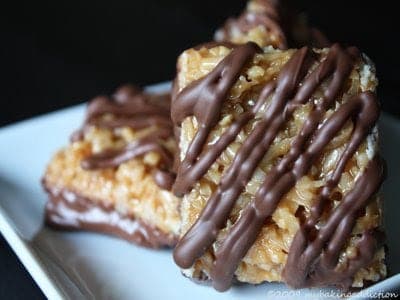 Well, the Girl Scout cookie season seems to have officially come and gone. Being that I was a Brownie in my wee little years, I feel compelled to support the troops by purchasing cookies from the daughters of my co-workers. This ordering can present a problem because I have a thing for Girl Scout Cookies; often stockpiling them away in the freezer for some mid-summer noshing. I also tend to over buy them and get really sick of the sugar goodness before they are all consumed or covered in freezer burn. Due to this wastefulness, I only ordered 5 boxes this year. Two of those boxes were Caramel deLites aka Samoas and much to my surprise, they were almost gone within a few days. This presented a problem since they are a family favorite!

When I saw a recipe for Somoas Bars, I knew I had to give them a try in an attempt to rectify the scant supply of Caramel deLites in my fridge. This recipe seemed easy enough and had all the yummy cookie flavors that I have grown to love over the years. This recipe is not hard to make and requires pretty basic ingredients. The result is a good cookie bar reminiscent of Caramel deLites; however, I think the "crust" needs to be tweaked a bit. It seemed a tad thick and chewy as opposed to thin and crisp, but they were still gobbled up!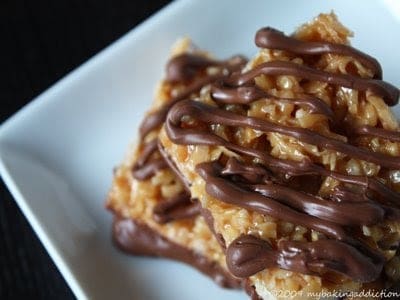 If your your supply of Caramel

deLites

is quickly dwindling,
click here
for the recipe!