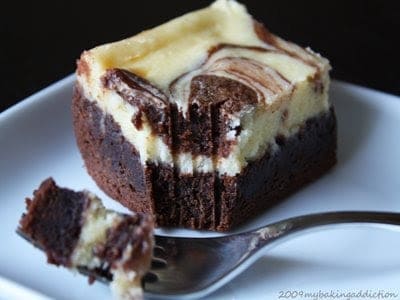 People love cheesecake, people love brownies…so why not make combine them and make one hell of a dessert? I have heard of cheesecake brownies, but I have never attempted to make them. However, last week I was feeling uninspired and decided to search for this concoction on foodgawker. There were several recipes that came up, but for some reason the one from Rosa's Yum Yums reeled me in. I think it was the serene mint green background in her picture or maybe it was the fact that her brownies were beautifully marbled! After reading her blog entry, I realized I had all the ingredients so I got to baking! I did alter this recipe a little bit to meet my needs, but you can click here to see the original recipe that Rosa adapted from Gourmet Magazine. The original recipe yields an 8×8 batch, I doubled that recipe to fill a 9×13 pan. This recipe is seriously amazing, I guarantee people will be hounding you for the recipe, so have some on hand!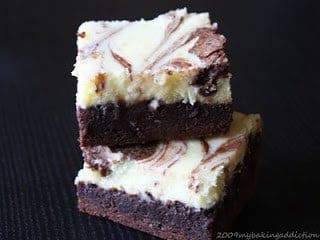 Cheesecake Brownies
Makes 32 brownies.
Ingredients for the "Brownie Batter":
2 Sticks unsalted butter, cut into pieces
5 ounces unsweetened chocolate, chopped
2 cups superfine sugar*
2 large eggs
1 tsp pure vanilla extract
1 pinch salt
1 1/3 cup all purpose flour
1 tsp baking powder

Ingredients for the "Cheesecake Batter":
2 (8 ounce) packages cream cheese; softened
2/3 cup superfine sugar*
2 large egg yolks
1/2 tsp pure vanilla extract

Method for the "Brownie Batter":
1. Put an oven rack in the middle of the oven and preheat oven to 350° F.
2. Line a 9×13 inch square baking pan with foil and butter.
3. Heat butter and chocolate in a 3-quart heavy saucepan over moderately low heat, whisking occasionally, just until melted. (I used the microwave)
4. Remove from heat, pour into a big bowl and whisk in sugar, eggs, vanilla, and a pinch of salt until well combined and shiny.
5. Whisk in flour and baking powder until just combined and spread in baking pan.

Method for the "Cheesecake Batter" and for baking the brownies:
6. Whisk together the cheesecake batter ingredients in a small bowl until smooth.
7. Dollop over brownie batter, then swirl in with a knife or spatula.
8. Bake until the edges are slightly puffed and center is just set, about 45 minutes.
9. Let cool on a wire rack.
*Note- If you do not have superfine sugar, just throw some granulated sugar in the food processor for a few seconds. Also, these are pretty sweet, so you could definitely cut down the amount of sugar in the brownie batter!