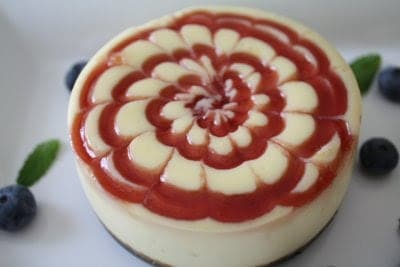 Let's talk about cracks…cheesecake cracks…I loathe them! Yeah, yeah I know the taste is the same, but I am all about presentation and those cracks…not so presentable. From what I read on the internet it seems as though the cracks develop when the cheesecake is cooled too quickly. So in case you are also a crack hater here are some tips. First, I always make sure my ingredients are at room temperature. For this recipe I wrapped the bottoms of the pans with foil and baked the cheesecakes in a water bath at 310°F for 35 minutes. After 35 minutes I turned the oven off and let the cheesecakes sit in the oven with the door closed for about a half hour. Then I cracked the oven and left them in for another half hour. I then transferred them to a cooling rack until they reached room temperature, after that, they went into the refrigerator overnight. As you can see…no cracks! I chose to add about 1/4 cup of berries to 2 of the cheesecakes and added a strawberry preserves swirl to the others.
Mini Berry Cheesecakes
Ingredients
1/2 cup plus 1 1/2 Tbsp. sugar; divided use
1 cup graham cracker crumbs
2 Tbsp. butter or margarine, melted
2.5 pkg. (8 oz. each) cream cheese, softened
1 1/2 Tbsp. flour
1 1/2 tsp. vanilla
Grated peel from 1/2 medium lemon (optional)
1/2 cup sour cream
2 eggs
Directions
1. Preheat oven to 310°F Prepare pans according to the directions above. Mix crumbs, 1 1/2 Tbsp. of the sugar and butter until well blended. Press firmly into bottom of pans.
2. Beat cream cheese, remaining 1/2 cup sugar, flour, vanilla and lemon peel with electric mixer on medium speed until well blended. Add sour cream; mix well. 3. Add eggs, 1 at a time, beating on low speed after each addition just until blended. Pour over crust.
4. Bake 35 minutes or until center is almost set. (see above tips) Run small knife around rim of pan to loosen cake; cool before removing rim of pan. Refrigerate at least 4 hours before serving. Store leftover cheesecake in refrigerator.
Yield | 3 (4 inch) mini cheesecakes