The combination of chocolate and almonds will forever remind me of my dad. He loves chocolate almond everything, but especially chocolate covered almonds from the local chocolatier. These were always a supplemental gift for him on all occasions and to this day remain one of his favorite treats.
While dabbling around in the kitchen last week, I came up with this delish chocolate almond cookie recipe. I under baked them just a tad to impart a chewiness that perfectly complimented the crunchy texture of the almonds. I also refrigerated the dough to allow the flavors to marry and the dough to slightly stiffen.
I definitely inherited my sweet tooth from my dad, although he is much more of a chocolate lover than I am. In fact, he called me yesterday asking if I had any use for a 10 pound block of Malley's chocolate. Although he later confessed that he had eaten 2 pounds, so it was now more like an 8 pound block. Apparently he professes his love for sweets to whomever he encounters because the chocolate slab was a gift from one of his happy clients. I'm doubting there will be much left by the time I make my way back home to pick it up, but I'll keep ya posted. I hope you enjoy this recipe as much as we did…have an amazing day!

Chewy Chocolate Almond Cookies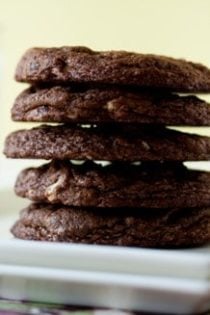 Ingredients:
1/2 pound (2 sticks) unsalted butter; room temperature
3/4 cup light brown sugar, packed
1 cup granulated sugar
2 teaspoons pure vanilla extract
2 large eggs at room temperature
2/3 cup unsweetened cocoa (I used Scharffen Berger)
2 cups flour
1 teaspoon baking soda
1 teaspoon kosher salt
2 cups semi-sweet chocolate chips
1/2 cup blanched slivered almonds; coarsely chopped
Directions:
1. In the bowl of an electric mixer fitted with the paddle attachment, cream the butter and both sugars until light and fluffy.
2. Add the vanilla, then the eggs, one at a time, and mix well. Scrape down the sides of the bowl after the addition of each egg.
3. Sift together the cocoa, flour, baking soda, and salt. Turn your mixer to low and gradually add the sifted ingredients; mix until just combined.
4. Fold in the chocolate chips and almonds. Refrigerate dough for 1 hour.
5. Preheat the oven to 350 degrees F. Line a baking sheet with parchment or a silicone baking mat.
6. Measure the dough using a 1 1/2 tablespoon scoop or a rounded tablespoon. Roll the dough in your hands until it forms a uniform ball and place on your lined baking sheet.
7. Bake cookies for 11-12 minutes (the cookies will seem underdone). Remove from the oven and let cool slightly (about 3 minutes) on the pan, then transfer to a wire rack to cool completely.
All images and text ©
Follow Jamie on Instagram. We love to see what you're baking from MBA! Be sure to tag @jamiemba and use the hashtag #mbarecipes!