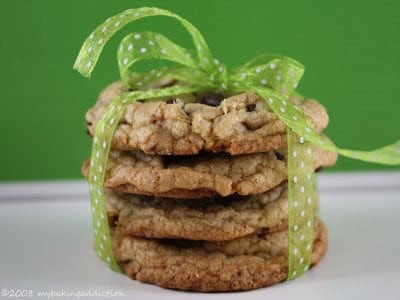 Ever since I read Em's post about Alton Brown's recipe for chewy chocolate chip cookies back in September, I knew I had to try them. Last night the boyfriend politely requested some chocolate chip cookies, so I decided give these a go. The recipe is definitely a departure from traditional chocolate chip cookie recipes. The base of the dough is comprised of bread flour and melted butter and the brown sugar content is significantly higher than the white sugar. I followed the recipe exactly as written. I do not have a cookie dough scooper, so I measured each cookie to weigh 1.6 ounces, rolled the weighed dough into balls and placed them on a silpat lined baking sheet. I baked these for 12 minutes and in my opinion, these are the perfect chewy cookie. You can check out the Good Eats episode, Three Chips for Sister Marsha through youtube by clicking here. Alton also makes "The Thin" and "The Puffy" in this episode…whichever your cookie preference, one of recipes is sure to please your palette!
The Chewy courtesy of the food network


Ingredients:
2 sticks unsalted butter
2 1/4 cups bread flour
1 teaspoon kosher salt
1 teaspoon baking soda
1/4 cup sugar
1 1/4 cups brown sugar
1 egg
1 egg yolk
2 tablespoons milk
1 1/2 teaspoons vanilla extract
2 cups semisweet chocolate chips

Hardware:
Ice cream scooper (#20 disher, to be exact)
Parchment paper Baking sheets
Mixer

Directions:
Heat oven to 375 degrees F. Melt the butter in a heavy-bottom medium saucepan over low heat. Sift together the flour, salt, and baking soda and set aside. Pour the melted butter in the mixer's work bowl. Add the sugar and brown sugar. Cream the butter and sugars on medium speed. Add the egg, yolk, 2 tablespoons milk and vanilla extract and mix until well combined. Slowly incorporate the flour mixture until thoroughly combined. Stir in the chocolate chips. Chill the dough, then scoop onto parchment-lined baking sheets, 6 cookies per sheet. Bake for 14 minutes or until golden brown, checking the cookies after 5 minutes. Rotate the baking sheet for even browning. Cool completely and store in an airtight
container.