Mini Chicken Salad Sandwiches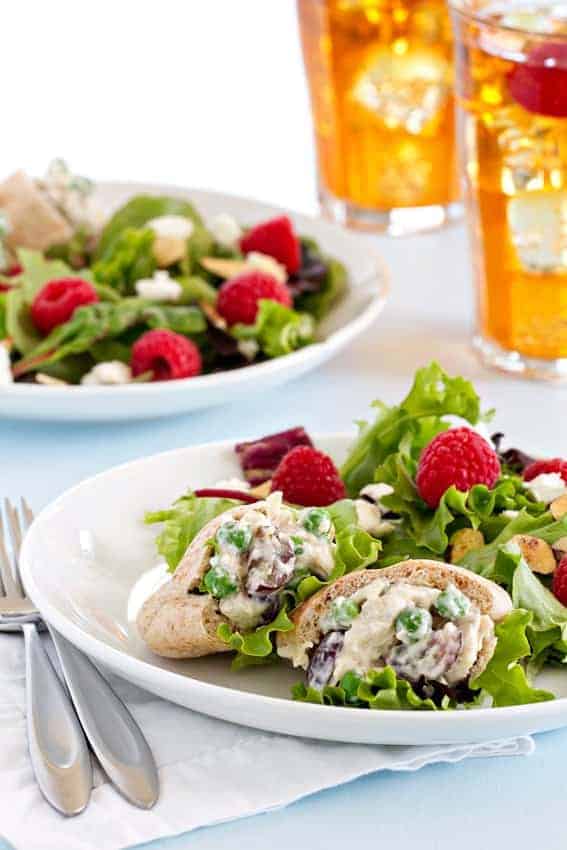 Chicken Salad with grapes, almonds, and tiny pita breads are the perfect pairing to flavorful iced tea. Perk up your afternoon with this delectable tea time treat.
This is a sponsored post on behalf of Starbucks®. All opinions are my own. Thank you for supporting the brands that continue to make My Baking Addiction possible.
It's still spring, officially, as the weather likes to remind me. I don't know about you, but here in Ohio, it's been super rainy and even downright chilly lately. My unfinished backyard looks very much like the field of an outdoor music festival held in the rain. Just mud and puddles as far as the eye can see. I'm not digging it.
I don't have any interest in feeling dreary throughout my day, so I decided it was time for Elle's first Ladies-Who-Lunch tea party. We had an absolute blast with minimal effort, and you can too.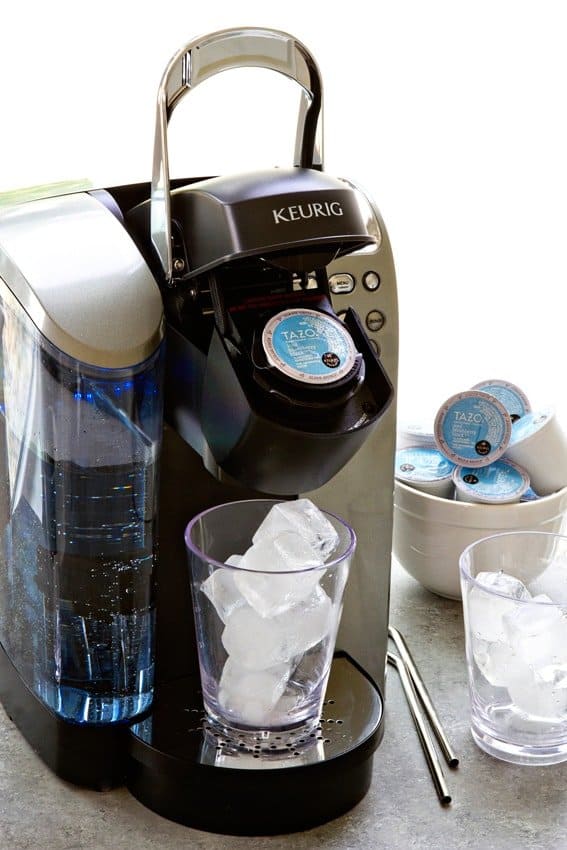 All you need are some mini croissants or pita breads, easily found at most grocery store chains, plus fresh and flavorful chicken salad, and the best iced tea I've had in a while – Tazo® Iced Tea K-Cup® Packs in Sweetened Iced Blushberry Black®.
It's incredibly refreshing, sweet, and has just the right amount of berry overtones. Even my friend Amber, who insists she might be the only Texan to not care for iced tea, loved this one. It pairs perfectly with a chicken salad made crunchy and sweet with red grapes, celery, and almonds.
That's right, I said almonds. I know that walnuts are more traditional, but almonds really shine here. Their sweet, almost cherry-like flavor is the perfect match to an iced tea that's heavy on blackberry deliciousness. Take a bite, then take a sip. They elevate each other, and it's just the afternoon pick-me-up you need when the weather outside doesn't match these summery flavors. And even more so when it does.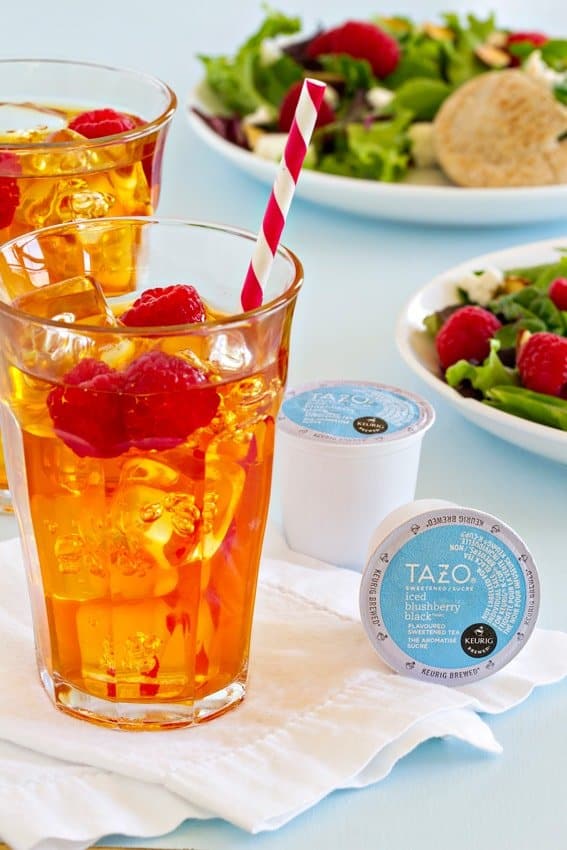 Pack a picnic. Brew up some Tazo® Iced Tea K-Cup® Packs in Sweetened Iced Blushberry Black® in reausable tumblers packed full of ice, and get outside. These K-Cup packs don't need anything else – they're already sweetened perfectly.
I tell ya, I'm looking forward to a day this summer when I've been outside all day planting flowers and planning where grass will grow – and then I come inside to the air conditioning, brew up a Tazo® Iced Tea K-Cup® Packs in Sweetened Iced Blushberry Black®, and take a sip. Now that, my friends, is what Summer tastes like.
Until then, it's not so bad just celebrating my favorite little lady with yummy Mini Chicken Salad Sandwiches and freshly brewed iced tea. Maybe she'll help me plan all that landscaping, while we watch the rain fall.
Chicken Salad with Grapes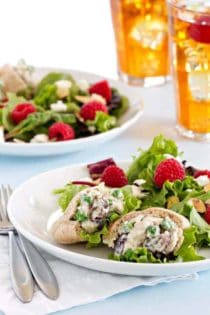 Ingredients:
4 cups cubed, cooked chicken (I used rotisserie chicken)
1/2 cup chopped celery
1 cup grapes, sliced in half
1/2 cup cooked peas
1 cup mayonnaise
1 teaspoon Dijon mustard
salt and pepper to taste
1/2 cup sliced almonds
Directions:
In a large bowl, toss together the chicken, celery, grapes, and peas.
In a small bowl, stir together the mayonnaise and mustard. Add to the chicken and gently stir ingredients to combine. Cover and refrigerate for at least one hour.
Before serving, gently stir almonds into the chicken salad. Serve on a bed of lettuce or with your favorite type of bread.
All images and text ©
Follow Jamie on Instagram. We love to see what you're baking from MBA! Be sure to tag @jamiemba and use the hashtag #mbarecipes!
This post may contain affiliate links. We are a participant in the Amazon Services LLC Associates Program, an affiliate advertising program designed to provide a means for us to earn fees by linking to Amazon.com and affiliated sites.