I am pretty confident in the kitchen, but for some reason, I have always shied away from preparing Asian dishes. Full of self-doubt, I always had the feeling that nothing I would make in my kitchen would compare to the deliciousness of our local take-out restaurant. I was wrong.
Last week I got a spark of ambition and attempted a chicken stir fry and homemade egg rolls. I am not a complete newbie to stir fry dishes, I have made them in the past, but always used a bottled brown stir fry sauce. Well, there will be no more bottled sauce in my house because this homemade brown garlic stir fry sauce is seriously amazing.
When I got the idea for stir-fry, I knew I wanted to accompany my main dish with homemade egg rolls. I needed a recipe and knew exactly where to turn, so I headed directly to Steamy Kitchen and of course Jaden had the perfect recipe. Although I was a bit intimidated by this recipe, it was actually quite simple and truly fun to make. Although Jaden does not recommend the readily available egg roll wrappers from your local grocer, it's all I had to work with. They honestly worked like a charm and made a crisp delicious egg roll that exploded with flavor.
I am not going to post a specific recipe for a stir fry, I simply cut my boneless skinless chicken breasts into pieces and cooked them in olive oil until it was cooked through. I then removed the chicken and added in a ton of veggies; carrots, onions, mushrooms, zucchini, and broccoli until they were cooked, but still slightly crisp. At this point, I added the chicken back into the pan with the veggies and tossed in the delectable brown sauce cooking until everything was nice and hot. Easy peasy…the possibilities are endless and I am betting you lovlies will come up with some pretty brilliant recipes!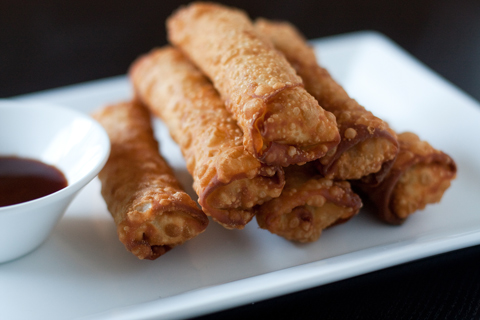 I served up my chicken stir fry with Jaden's egg rolls and noodles. This meal equaled perfection and it will certainly be gracing my dinner table again in the near future. Have a fabulous weekend!

Brown Garlic Stir-Fry Sauce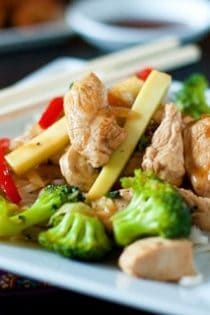 Ingredients:
2/3 cup soy sauce*
1/2 cup chicken broth
1/3 cup rice wine (NOT rice wine vinegar)
3 1/2 tablespoons sugar
1 teaspoon sesame oil
1/4 teaspoon black pepper
2 tablespoons cooking oil
1 tablespoon minced garlic
1 teaspoon Sriracha or another hot sauce
1 tablespoon minced ginger
2 tablespoons cornstarch
1/4 cup water
Directions:
1. In a bowl, combine soy sauce, broth, rice wine, sugar, sesame oil, Sriracha and pepper.
2. Dissolve the cornstarch in 1/4 cup water.
3. Heat a pan over high heat; add the cooking oil, swirling to coat; add the garlic and ginger; cook, stirring, until fragrant, about 15 seconds.
4. Add the soy sauce mixture; bring to a boil.
5. Reduce heat to medium and cook for 1 minute.
6. Add the cornstarch solution and cook, stirring, until the sauce boils and thickens.
Notes:
- If using Kikkoman brand soy sauce, consider using the low sodium option because otherwise this may be too salty. I used low sodium and it was perfect!
adapted from Recipezaar
All images and text ©
Follow Jamie on Instagram. We love to see what you're baking from MBA! Be sure to tag @jamiemba and use the hashtag #mbarecipes!
[pinit]