Chinese Chicken Salad…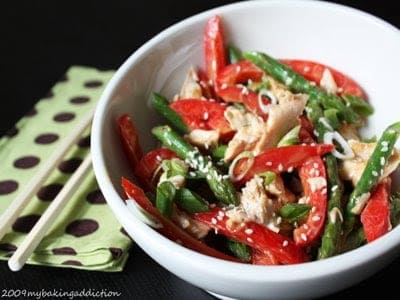 I love to cook, but not as much as I love to bake. When I came across the Barefoot Bloggers group, it immediately got my attention because I love me some Ina Garten. However, I was apprehensive about joining the group due to time constraints, but once I realized this was only a bi-weekly group I was in! This week's recipe for Chinese Chicken Salad was chosen by McKenzie of Kenzie's Kitchen. I truly enjoy Asian flavors so I figured this would be amazingly delicious! Not to mention the abundance of fresh produce in the recipe is perfect for spring. You can honestly whip this up in no time flat especially if you take a shortcut and use a roasted chicken from your local market. The only modification I made was that I decreased the amount of peanut butter in the dressing. If I am keeping it real, this recipe was not a fave of mine, in my opinion it was mediocre at best. Although I thought it looked beautiful, I do not think this will make it into the rotation at my house. I could not decide what turned me off…maybe the peanut butter, or maybe the sesame oil, but either way this was not a winner in my book. However, this is a highly rated recipe on foodtv.com, so it may please your palette more than it did mine! Even though this recipe did not rank high on my scale of deliciousness, I really look forward to cooking with the Barefoot Bloggers!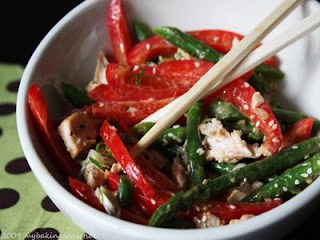 This post may contain affiliate links. We are a participant in the Amazon Services LLC Associates Program, an affiliate advertising program designed to provide a means for us to earn fees by linking to Amazon.com and affiliated sites.