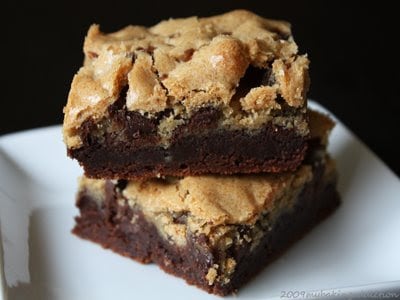 For this week's Tuesdays with Dorie installment, Beth of Supplicious decided on Chipster-Topped Brownies. This recipe sounded amazing to the boyfriend and he actually hounded me to make them for a day a two. I finally gave in on Sunday night and whipped these together while watching the Cavs game. I had read on the P&Q about problems with sinking chipster dough; however, my assembly worked without a hitch! I baked for 50 minutes; at this point, my knife was slightly streaky. When they came out of the oven I was shocked as to how much both components had risen and I thought for sure I would see some sinking as it cooled. After about 20 minutes of being on a cooling rack the Chipster-Topped Brownies were still quite poofy and the boyfriend ate a small piece while still warm. This warm portion would have been amazing topped with vanilla ice cream, but unfortunately we did not have any!
I let them sit on the counter overnight and cut them into squares the next morning. Now, let me tell ya, I rarely fall in love with desserts..I like to taste and send them away to friends and co-workers, but these my friends…these are delicious! I totally think the chipster topping makes these so delectable…it's slightly crunchy and chewy and just irresistible! There is no question that I will make these again!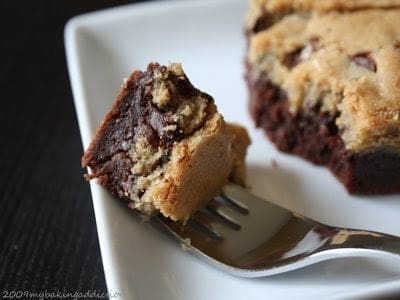 For the recipe, head over to Beth's site or flip to pages 94-95 of Baking: From My Home to Yours! Thanks for visiting and have a scrumdiddlyumptious day!