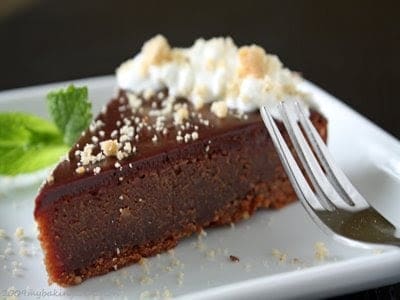 This week's Tuesdays with Dorie recipe is a 15 Minute Magic: Chocolate Amaretti Torte and was chosen by Holly of Phe/MOM/enon. I could not find the cookies that Dorie recommended, but I did come across some delightful Amaretti Cookies in the gourmet foods section of TJ Maxx. This torte is definitely super easy to make and came together in around 15 minutes.
I loved the fact that all the ingredients were tossed into the food processor then directly into the pan…this made for easy clean-up which is always a plus in my book! I baked this torte in an 8 inch tart pan and it worked perfectly. Plus once I poured the glaze over the torte it looked like one giant Reese Peanut Butter Cup! I wish I would've cut the recipe in half because we did not even come close to finishing it. Although this is not one of my favorite Dorie recipes, it was good and worth making. If I do make this again, I will seek out the Amaretti Di Saronno cookies that Dorie recommended!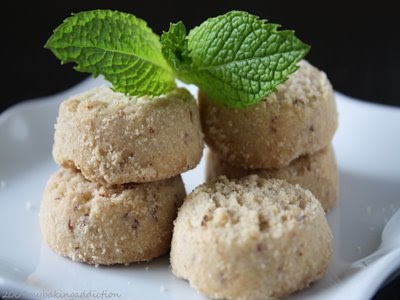 For the recipe, check out Holly's blog or turn to pages 276 and 277 in Dorie's book Baking: From My Home to Yours. Be sure to head over to the Tuesdays with Dorie blogroll see other renditions on this torte. Have a great day and thanks for stopping by!