If you follow me on
Facebook
, you may remember me asking what recipe you would like to see on MBA next. The choices were Chocolate Caramel Shortbread Bars or a Lemon Blueberry Loaf. After reviewing 30 comments, the Chocolate Caramel Shortbread Bars was the definite winning recipe. Don't worry blueberry fans the Lemon Blueberry Loaf will post later in the week!
I'm going to warn you, these Chocolate Caramel Shortbread Bars are heavy on the butter…you may feel your thighs expanding as you read the ingredient list. On the plus side, a little square is plenty to get your sweet fix!
Have you heard of Millionaire's Shortbread? Well apparently it is another name for this type of recipe which consists of a shortbread crust, a caramel center and a top layer of chocolate. After doing a little research, I discovered you can take a little help from your grocery store and use premade Dulce de Leche. If you plan on checking your local market for the premade stuff, here is a little tip…I know Nestle makes it and I have found it in the ethnic food aisle, so start there first. Truly making my own was no big deal either, just be warned…this is not the time to multi-task; focus all your attention on the microwave or very bad things could happen. I may or may not have tried sending out tweets while mine was bubbling away and it may have left a huge puddle of oozing caramel lava all over my microwave. Just. Be. Careful.
These bars were a huge hit; I adore a salty/sweet combo, so the sprinkling of vanilla fluer de sel that was recommended by a Facebook fan really made the flavors stand out. Thanks for the idea, Jessie! I purchased my Vanilla Fleur De Sel from Beanilla, but I am sure plain fine sea salt would work just as well. These Chocolate Caramel Shortbread Bars reminded Brian and I of Twix Bars. In my family, the only way to eat any type of candy bar is to eat it cold. So, we stored the cut bars in the fridge and were in cold candy bar bliss! If you make these bars, definitely come back and let us know how you liked them! Have a fantastic and delicious week!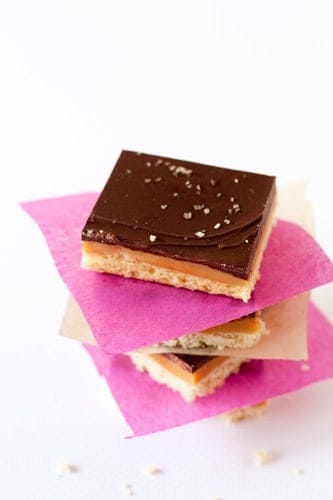 Chocolate Caramel Shortbread
adapted from Nigella Lawson | makes 16-24 bars
Ingredients
1 1/2 cups all-purpose flour
1/4 cup sugar
1 ½ cups (3 sticks) unsalted butter; divided use
1 (14-ounce) can sweetened condensed milk
4 tablespoons light corn syrup
12 ounces semisweet chocolate
1 teaspoon vanilla fleur de sel (sea salt)
Method
1. Preheat the oven to 325 degrees.
2. Put the flour and sugar into a bowl and rub in 12 tablespoons of the butter (note: I used my food processor for this step), clumping the dough together to form a ball.
3. Press this sandy shortbread mixture into a 9-inch square pan that has been greased and the bottom lined with parchment paper; smooth it with either your hands or a spatula. Pierce it with a fork and cook for 5 minutes, then lower the oven to 300 degrees, and cook for a further 30-40 minutes until it is pale golden and no longer doughy. Let it cool in the pan.
4. In a deep microwave safe bowl, Melt the remaining butter (12 tablespoons) for 2-3 minutes, then add the condensed milk and syrup. Whisk the mixture well until the butter is thoroughly incorporated.
5. Heat in the microwave for 6-7 minutes until it is boiling, stirring thoroughly every 30 seconds. Be careful to stir often and DO NOT leave unattended because this will boil over and create a mess! It's ready when it's thickened and turned a light golden brown. Pour this molten toffee evenly over the cooled shortbread and leave it to set.
5. Break the chocolate into pieces and melt it in a bowl in the microwave. Pour and spread it over the caramel mixture (the less you touch it, the shinier it will be).
6. If you are incorporating the fleur de sel, sprinkle it over the chocolate and allow the bars to cool.
7. Once set, cut the caramel shortbread into pieces. The squares can be stored in the fridge to keep them firm, though if it's winter that shouldn't be necessary.