Let's talk about New Year's Resolutions. I don't make them – ever. Not because I don't have things to work on. That would be the biggest lie ever. It's just that I kind of stink at setting very specific goals. I'm known for breaking any resolution I've ever made within about 2.5 hours. Instead of very specific goals, I try to set little milestones that don't seem so hard.
Simple things, like swapping in Truvia for my morning java jolt instead of sugar. And trading in some Truvia Baking Blend where I would normally use all granulated sugar, especially in things I like to dunk in my lightened up coffee, things like crispy, crunchy biscotti.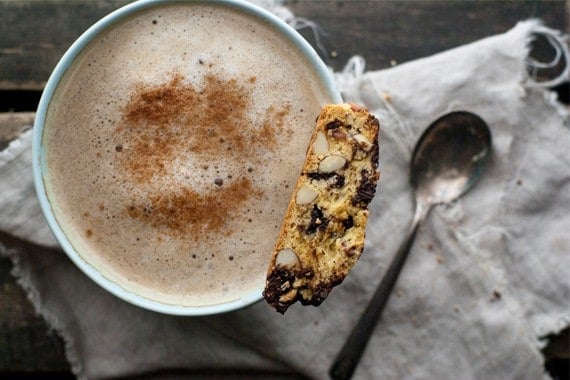 With Valentine's Day just around the corner, Chocolate Cherry Biscotti are the perfect treat for a romantic breakfast. Loaded with sweet, tart cherries, melted dark chocolate and nutty almonds, these little breakfast cookies taste incredibly decadent, but you don't have to worry about indulging since their calorie count has been lightened up thanks to Truvia Baking Blend.
In case you needed one more thing to love about biscotti, did you know it can be made several days ahead of time? Mixing the dough takes just minutes, and the baked cookies can be stored in an air tight container at room temperature for several days. It's a great way to get a jump start on your Valentine's Day celebration.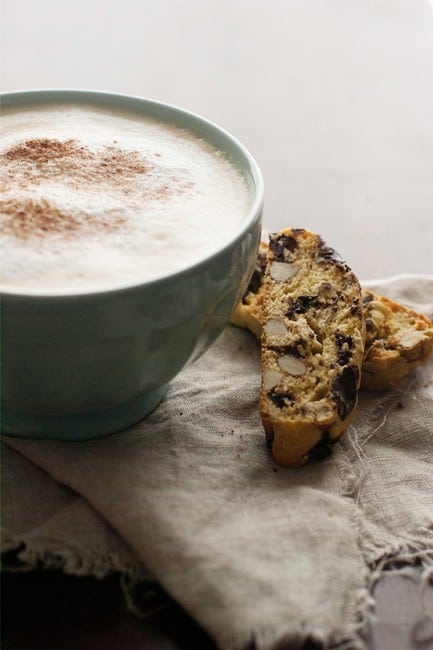 These homemade biscotti have such an incredible texture compared to store-bought packaged options. It has the traditional dried biscotti quality yet remains a bit tender, and every bite is an explosion of tart fruit and sweet chocolate. The taste is out of this world! Pair them with a rich cup of coffee or chai latte for a perfect morning with your sweetheart.
Disclosure: My Baking Addiction has teamed up with Truvia to develop recipes using Truvia® Baking Blend. This is a sponsored post written as part of that program. All opinions about Truvia Baking Blend are my own.
[pinit]

Chocolate Cherry Almond Biscotti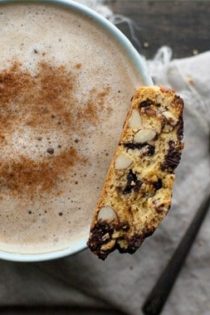 Ingredients:
1/4 cup of unsalted butter, softened
1/4 cup plus 2 Tablespoons of Truvía® Baking Blend
2 large eggs
2 teaspoons pure vanilla extract
1 3/4 cup all-purpose flour
1/4 teaspoon salt
1 teaspoon baking powder
1/2 cup dried tart cherries, chopped
3/4 cup dark chocolate chips
3/4 cup almonds, chopped
Directions:
1. Preheat oven to 300°. Line a rimmed baking sheet with parchment paper and set aside.
2. In a medium sized bowl, whisk together flour, baking powder and salt. Set aside.
3. In the bowl of a stand mixer fitted with a paddle attachment, cream together butter and Truvía® Baking Blend until light and fluffy.
4. Add eggs and vanilla and beat until well blended, about 3-4 minutes, scraping down sides as needed.
5. With the mixer on low, carefully add in the dry ingredients. Mix until a stiff dough forms.
6. Using a sturdy wooden spoon, fold in the cherries, chocolate chips and almonds.
7. Divide dough in half, and using wet hands, form the dough into two 4"x8" flattened logs on the prepared baking sheet.
8. Bake logs of dough for 35-40 minutes or until golden brown. Remove pan from oven and reduce oven temperature to 275°.
9. Allow the baked biscotti logs to cool for about 10 minutes on baking sheet. With a serrated knife, slice the logs into 1/2 inch thick slices. Lay the slices down on the baking sheet and bake for an additional 25-30 minutes or until biscotti are dried.
10. Transfer biscotti to wire racks to cool completely. Serve alongside a cup of coffee or tea.
Notes:
- Be sure to chop the cherries and almonds well to ensure easy slicing of the biscotti.
- Watch the biscotti closely during the second round of baking to achieve the perfect dry biscotti texture.
- Wet hands are very helpful in forming the logs of dough on the baking sheet.
My Baking Addiction adapted from Truvia
All images and text ©
Follow Jamie on Instagram. We love to see what you're baking from MBA! Be sure to tag @jamiemba and use the hashtag #mbarecipes!