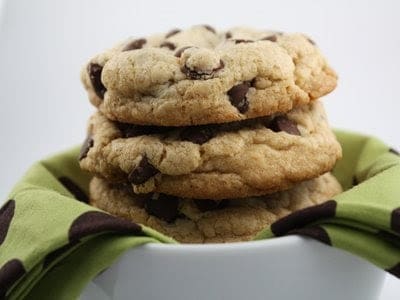 Of all the things I whip up in my kitchen, the most requested baked good from the boyfriend is chocolate chip cookies. He loves them warm right out of the oven, but will happily consume them after they have been in the cookie jar for days. Being a food blogger, I cannot easily be convinced to make the same recipe twice; in fact, I rarely consider this to be an option. When the boyfriend gets a hankering for some chocolate chip cookies I immediately pull out the cookbooks or hit up the web in search for another recipe to try. This time I opted for a highly rated one from allrecipes and I actually made these exactly according to the directions except that I chilled the dough for several hours before baking. These cookies are BIG… they are chewy and they are very good. Last week I read this post on Ingrid's blog which inspired me to make ice cream sandwiches. I simply slathered some softened vanilla ice cream between two cooled cookies then rolled the edges in sprinkles. In case ya noticed…my anal-ass self even matched the sprinkles to my ribbon just because I wanted them to look extra purty for y'all.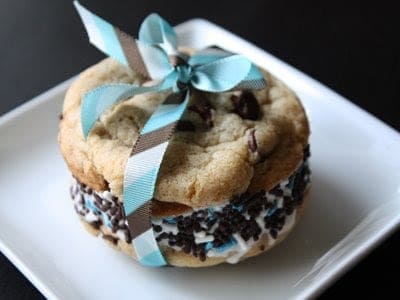 Have a scrumdiddlyumptious day and thanks for stopping by!
Don't forget to keep checking back for a giveaway that is just around the corner!
Big, Fat, Chewy Chocolate Chip Cookies
Ingredients
2 cups all-purpose flour
1/2 teaspoon baking soda
1/2 teaspoon salt
3/4 cup unsalted butter, melted
1 cup packed brown sugar
1/2 cup white sugar
1 tablespoon vanilla extract
1 egg
1 egg yolk
2 cups semisweet chocolate chips
Directions
1. Sift together the flour, baking soda and salt; set aside.
2. In a medium bowl, cream together the melted butter, brown sugar and white sugar until well blended. Beat in the vanilla, egg, and egg yolk until light and creamy. Mix in the sifted ingredients until just blended. Stir in the chocolate chips by hand using a wooden spoon.
3. Chill dough for at least two hours.
4. Preheat the oven to 325 degrees F (165 degrees C). Grease cookie sheets or line with parchment paper.
4. Drop cookie dough 1/4 cup at a time onto the prepared cookie sheets. Cookies should be about 3 inches apart.
5. Bake for 15 to 17 minutes in the preheated oven, or until the edges are lightly toasted. 6. Cool on baking sheets for a few minutes before transferring to wire racks to cool completely.