Sprinkles Cupcakes
. Although I have never had the opportunity to taste a cupcake from Sprinkles, I have admired them for their modern aesthetic appeal and jumped at the opportunity to speak with Candace.
Since this post is all about cupcakes, I just had to whip up a batch to share with you. After browsing the amazing Sprinkles menu, I knew I wanted to create a chocolate on chocolate cupcake and drew inspiration from Candace's Milk Chocolate flavor. The description of this selection is a Belgium dark chocolate cupcake with fudgy milk chocolate cream cheese frosting. How delish does that sound? Although my interpretation of this sweet treat is slightly different, it turned of to be quite delectable.
In case you are not familiar with Sprinkles, here is a little background info. Candace started Sprinkles in Beverly Hills in 2005, her sophisticated take on the classic American cupcake made Sprinkles an overnight bakery sensation. Candace's business continues to grow with 5 more locations slated to open in the near future. If I have piqued your interest about Sprinkles and you're drooling at the mere thought of entering a Sprinkles bakery, you can check our their list of locations here.
Candace was such a doll during the phone conference, she gave some participants great advice regarding their own business ventures and answered some great questions about branding, business partnerships and even shared some personal stories.
Curious what I asked Candace? Well here are my questions and her responses directly from the transcripts:
MBA: I'm pretty big on the whole presentation factor on my blog with all baked goods, I'm curious what your inspiration was behind your signature Sprinkles look.
Candace: Oh sure. Basically, decoration in general, presentation has to follow what you're doing with the actual cupcake itself. So a lot of times on Cupcake Wars, if there was a garnish on top of the cupcake, it's an indication, or should've been an indication as to what was going on with the cupcake flavor inside. At Sprinkles what we did, is we reinvented the cupcake. We modernized it, we made it more sophisticated, more elegant with more beautiful ingredients, and we wanted to do the same thing with the look. So, playing on the traditional with the color of the modern dot; having that element of fun, but then also making it more sophisticated and sleek.
MBA: Obviously you were inspired by cupcakes at some point or another, but I'm curious as to what your very first cupcake memory was as a kid.
Candace: Oh my gosh, you know what, no one's ever asked me that question before! That's amazing, that's such a great question. I have so many pictures of myself as a kid eating cake, but I don't have that many of me eating cupcakes, and one of the reasons why, is that I grew up overseas when I was very young. And it was until I came back to the States when I was more in grade school that I started eating cupcakes, and those were Hostess cupcakes in my lunch box.
If you are a Food Network junkie like I am, you may recognize Candace from the latest commercial promos because Candace's latest venture is being a judge on Food Network's new show, Cupcake Wars. Each week on Cupcake Wars, four of the country's top cupcake bakers face off in three elimination challenges until only one decorator remains. The sweet prize: $10,000 and the opportunity to showcase their cupcakes at the winning gig. Whether a special Ace of Cakes anniversary celebration, a star-studded magazine party or an A-list celebrity golf tournament, these Cupcakes Wars really heat up. Candace Nelson (owner of Sprinkles Cupcakes) and Florian Bellanger (chef and co-owner of online macaroon company MadMac) serve as permanent judges with a third rotating judge each week, and Justin Willman hosts.

I watched the sneak peek of Cupcake Wars on Sunday. Although I like the concept of this Food Network show, it definitely has a flair for the dramatics. I will not proclaim this show to be a must watch, but if you are looking to burn an hour and be exposed to some odd cupcake flavor combinations, definitely check it out and judge it for yourself. Cupcake Wars airs Tuesdays at 9pm/8c…I will definitely be tuning in tonight to see if my opinion of the show changes before I set my DVR to record the season. If you happened to watch the show, let me know your thoughts!
Now let's talk chocolate on chocolate cupcakes…the combination of the moist chocolate cake with the richness of the chocolate infused cream cheese frosting is a real stunner. These cupcakes were a big hit and I tell you what, I had to practice some serious will power in order to now eat this frosting by the spoonfull! If you have a favorite chocolate cake recipe, slather on this frosting and become a baking rock star! If you like to experiment, give the Martha Stewart cupcake recipe found below a whirl. I liked it, it's a tad dense, but super moist. If you like cream cheese frosting, you will be smitten with this chocolate version.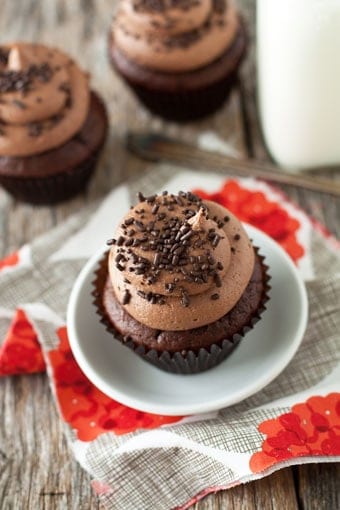 Chocolate Chip Cupcakes
Makes 12 Cupcakes

Ingredients
3/4 cup unsweetened cocoa powder
3/4 cup all-purpose flour
1/2 teaspoon baking powder
1/4 teaspoon salt
3/4 cup (1 1/2 sticks) unsalted butter, room temperature
1 cup sugar
3 large eggs
1 teaspoon vanilla extract
1/2 cup sour cream
3/4 cup semi sweet chocolate chips

Directions
1. Preheat oven to 350 degrees. Line 12-cup standard muffin tin with paper liners.
2. Into a medium bowl, sift together cocoa, flour, baking powder, and salt; set aside. In a mixing bowl, cream butter and sugar until light and fluffy. Add eggs, one at a time, beating well after each, then beat in vanilla. With mixer on low speed, add flour mixture in two batches, alternating with sour cream and beginning and ending with flour. Gently fold in chocolate chips.
3. Pour batter into cups, filling each 3/4 full. Bake until a toothpick inserted in centers comes out clean, 20 to 25 minutes.
4. Cool in pan 5 minutes; transfer to a wire rack to cool completely.

Chocolate Cream Cheese Frosting
(enough to liberally frost 12-16 cupcakes)

Ingredients
8 ounces of cream cheese; room temperature
1/2 cup (1 stick) unsalted butter; room temperature
4 tablespoons shortening* (Crisco)
1 teaspoon pure vanilla extract
1/4 teaspoon Kosher salt
3 ounces unsweetened chocolated; melted and slightly cooled.
4 cups confectioners' sugar; sifted

Directions
1. In the bowl of a stand mixer fitted with the paddle attachment cream the butter, cream cheese and shortening until well blended.
2. Add in the vanilla and salt and mix on low speed until well combined.
3. Gradually pour in the chocolate until thoroughly combined.
4. Add in the confertioners' sugar one cup at a time until completely incorporated.

Notes:
1. I use Crisco for a little stability in my frosting, if you are opposed to Crisco, simply sub in a few more tablespoons of butter.
2. The brown cupcake liners and the piping tip used are both from Bake It Pretty.

I was asked to participate in a conference call yesterday to interview Candace Nelson, the founder of