[pinit]
Sometimes I'm compelled to share random facts about myself. Mostly I'm hoping you guys won't think I'm as weird as I think I am. Here's the thing: as much as I love to bake cookies, I definitely love the act of baking them more than I do actually consuming them.
Okay, well – I take that back – I'm a sucker for homemade sugar cookies with buttercream frosting. I'll nosh those bad boys by the dozen. And I also kind of adore Lofthouse sugar cookies from the supermarket – there's just something about the brightly hued frosting and super soft texture that just really gets me.
Aside from Lofthouse cookies, the occasional package of Double Stuff Oreos or Girl Scout Cookies, I don't typically purchase many cookies. Sometimes I think my lack of cookie consuming stems from the fact that I loathe drinking milk. And let's be real, milk is kind of an integral part of the whole cookie eating experience, right?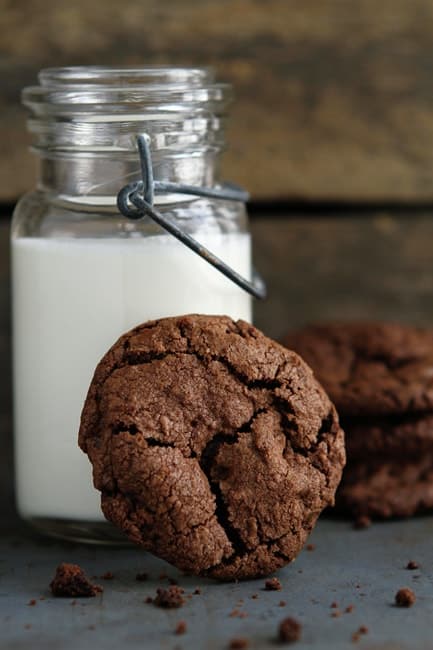 A friend of mine is convinced that if I simply add a few ice cubes to a glass of milk, I'll be chugging it down and enjoying every last sip. I've explained that the mere thought of iced milk kind of makes me feel like I'm covered in hives, and teeters on the verge of causing me to dry heave. It's the same with consuming Jell-O. I simply can't bring myself to do it. Ever.
Jell-o and milk aversion aside – I was surprised at just how many of these Chocolate Chocolate Chip Cookies I shoveled into face. And lucky for me, I was totally digging these, even without a glass of iced milk.
Even if you're more a cookie baker than a cookie consumer, make these bad boys. They'll surprise ya.
[pinit]

Chocolate Chocolate Chip Cookies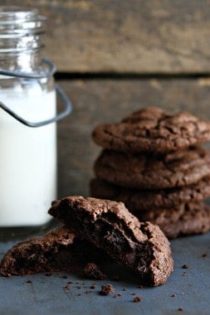 Ingredients:
1 2/3 cups dark chocolate chips, divided use
1 cup Gold Medal all-purpose flour
1/4 cup unsweetened cocoa powder
1 teaspoon baking soda
1/2 teaspoon salt
1/2 cup unsalted butter, softened
1/2 cup packed light brown sugar
1/4 cup granulated sugar
1 large egg
1 1/2 teaspoons vanilla extract
Directions:
1. Preheat oven to 325 degrees F. Line baking sheets with parchment paper.
2. In a microwave-safe bowl, melt 2/3 cup dark chocolate chips on medium power for 30 seconds; stir. Morsels may retain some of their original shape. Continue to microwave and stir in 15 second intervals until chocolate chips are just melted. Set aside.
3. In a medium bowl, sift together flour, cocoa, baking soda and salt. In the bowl of a stand mixer fitted with the paddle attachment, or in a large bowl with an electric mixer, beat butter, brown sugar and granulated sugar until light and fluffy; about 3 minutes. Add melted chocolate and mix until thoroughly combined. Add egg and vanilla extract, mixing until well blended, about 1 minute. Add flour mixture, mixing just until blended. Stir in remaining 1 cup morsels. Using a medium cookie scoop (1 1/2 tablespoons) drop dough 2 inches apart onto prepared baking sheets.
4. Bake for 12 - 14 minutes until tops have a cracked appearance. Cool on baking sheets for 5 minutes. Remove to wire rack to cool completely.
Notes:
- Cookies are best served the day they are made, but will keep in an airtight container at room temperature for up to two days.
- I used Nestle Dark Chocolate Morsels in this recipe.
All images and text ©
Follow Jamie on Instagram. We love to see what you're baking from MBA! Be sure to tag @jamiemba and use the hashtag #mbarecipes!
Disclosure
This post is part of an ongoing relationship between My Baking Addiction and Gold Medal Flour. In June of 2012, My Baking Addiction attended a Farm to Table event in Kansas City to learn why Gold Medal has been America's flour of choice for 125 years. Although this is a sponsored post, the views and opinions expressed are our own and based upon our personal experiences with Gold Medal Flour.