Are you looking for a cute, last minute gift idea that can be whipped together in just a few minutes?
The clock is ticking down to Christmas, so I am going to squeeze in one last post for all you procrastinators out there. This post will show you how to make a quick and fun gift that would be great for anyone on your list – especially anyone that loves to bake!
Although these cookie recipes in a jar have been around for years, I have never actually assembled one until now. The process is super easy and the Domino Sugar site has the recipes, method and gift tags with the instructions all ready for you with the click of your mouse.
Let's get started!
Chocolate Chunk Cookie Mix in a Jar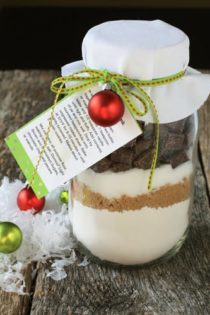 Ingredients:
1 1/4 cups all-purpose flour
1/2 teaspoon baking soda
1/2 teaspoon salt
1/2 cup firmly packed Domino® Light Brown Sugar
1/3 cup Domino® Granulated Sugar
1 cup (6-oz pkg.) semi-sweet chocolate chunks or chocolate chips
1/2 cup chopped pecans or walnuts
1 glass, canning jar; 1 quart size (I picked mine up at Micheals)
fabric or tissue paper
ribbon
Gift tag (can be printed directly from Domino Sugar)
Directions:
1. Combine flour, baking soda and salt in a small bowl.
2. Spoon into 1-quart, widemouthed canning jar. Layer remaining ingredients in order given, making sure to pack down each layer firmly and clean inside of jar with a dry paper towel after each layer.
3. Decorate lid by cutting fabric into a 7-inch wide square or circle.
4. Secure with a rubber band and tie with a decorative ribbon and accents.
Follow Jamie on Instagram. We love to see what you're baking from MBA! Be sure to tag @jamiemba and use the hashtag #mbarecipes!
Attach these instructions to the jar:
1. In large mixing bowl, cream together 2/3 cup softened butter or margarine, 1 egg, 1 teaspoon water and 1/2 teaspoon vanilla until light and fluffy.
2. Add contents of jar and mix well. Drop by rounded teaspoonfuls onto ungreased cookie sheet.
3. Bake at 375°F for 8-10 minutes or until lightly browned.
Makes about 3 dozen cookies
Seriously…how easy was that? Now go raid your pantry and make this special holiday gift for someone special. I am guessing they will love it! Have a fabulous day!
Don't want to miss a single delectable post? Subscribe to My Baking Addiction!
[pinit]