Hi there! This is Emily from Jelly Toast here to share with you some incredibly addictive Chocolate Coconut Scones. These scones are packed with sweet coconut and dark chocolate then topped with a coconut glaze and a sprinkle of toasted coconut.
Besides being mouthwateringly good, these fit perfectly into my goals for the New Year. After years of cold cereal, I am attempting to kick my breakfasts up a notch in flavor, but also eat a bit more mindfully than I did over the holidays.
Cliché, I know, but it's true. I need to be better because frankly, I don't want to have to go buy all new jeans in a month. Luckily, these decadent coconut scones have only 3 Tablespoons of butter in them, and are made with white whole wheat flour. So, while this is not a recipe for a salad, you can feel a little less guilty about eating something that tastes like a Mounds candy bar for breakfast.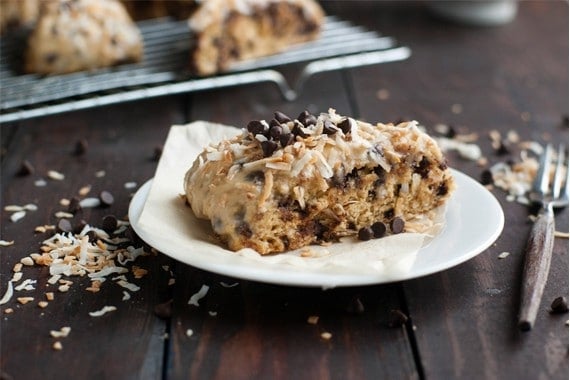 I was inspired to make this chocolate and coconut studded breakfast treat by one of my all-time favorite desserts: chocolate dipped coconut macaroons. When I was little, my dad would frequently commute up to Ann Arbor and at the end of the day would return home bearing a giant white bakery box full of baseball sized coconut macaroons dipped in deep, dark chocolate. They were my absolute favorite and now I can never see or eat a coconut macaroon without thinking about the ones that my dad brought home.
I wanted these scones to be very reminiscent of those childhood macaroons, so I started with my favorite light chocolate chip scone recipe and packed it full of coconut goodness: Coconut milk, sweet coconut, a coconut glaze and toasted coconut. The results were incredible and my family inhaled every single one. I am just glad that I bought two cans of coconut milk, so I will be making these again very soon. My breakfast has never tasted so sweet.
Enjoy!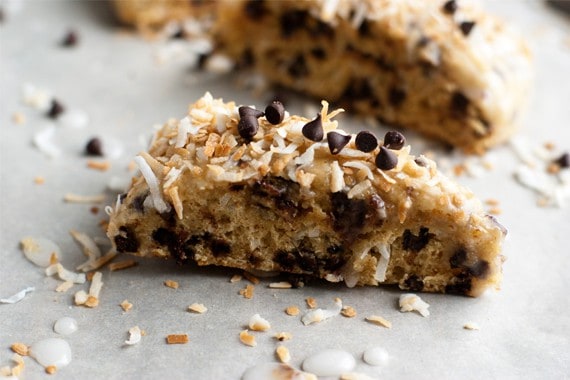 [pinit]

Chocolate Coconut Scones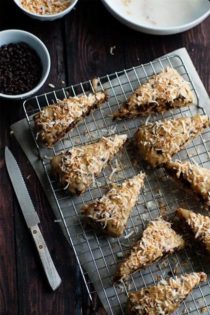 Ingredients:
For the Scones
3/4 cup light coconut milk
1 egg
1/4 cup sugar
2 teaspoons vanilla
1 cup all purpose flour
1 cup white whole wheat flour
1 tablespoons baking powder
1/2 teaspoon salt
3 Tablespoons unsalted butter, very cold and cut into small pieces
3/4 cup mini chocolate chips
1/2 cup of sweetened flake coconut
2 Tablespoon light coconut milk (for brushing on top before baking)
For the Glaze
1 cup powdered sugar
2 (plus a few drops more if needed) tablespoons light coconut milk
1/4 cup coconut, toasted
2 Tablespoons mini chocolate chips (optional)
Directions:
For the Scones
1. Preheat oven to 375°F. Line a rimmed baking sheet with parchment paper and set aside.
2. In a medium bowl, mix together coconut milk, egg, sugar and vanilla. Set aside.
3. In a large bowl, whisk together both flours, baking powder and salt. Using a pastry blender, cut the cold butter into the dry ingredients until it is the size of small peas and evenly incorporated. Work quickly so the butter does not soften too much.
4. Gently mix the wet ingredients into the dry ingredients using a wooden spoon. Carefully fold in coconut and chocolate chips.
5. On a floured surface using floured hands, knead the dough 4-5 times. Dough will be quite sticky, so sprinkle on more flour as needed.
6. Place the dough on the prepared baking sheet and form into a 8-9 inch disc, about 3/4 inch thick. Use a knife and cut the disc into 12 wedges (like a pizza) leaving the pieces in place.
7. Brush the entire round of scones with the 2 Tablespoons of coconut milk.
8. Bake scones for 18-20 minutes or until slightly golden brown. Remove scones and all them to cool on the pan.
For the Glaze
1. While scones are cooling mix the glaze: In a wide shallow bowl, mix together powdered sugar and 2 Tablespoons of coconut milk until the glaze is a nice pourable consistency, but not overly runny.
2. Add a few more drops of coconut milk as need to achieve the desired consistency.
3. Take a cooled scone, flip it over and dip the top into the bowl of glaze.
4. Alternately, you can pour glaze over the tops of the scones.
5. Sprinkle wet glaze with toasted coconut and mini chocolate chips, if using.
6. Serve!
Notes:
Scones are best the day of, but I have found they keep pretty well for two days in an air tight container. Reheat for about 10 seconds in the microwave for a warm treat.
Recipe adapted from SkinnyTaste
All images and text ©
Follow Jamie on Instagram. We love to see what you're baking from MBA! Be sure to tag @jamiemba and use the hashtag #mbarecipes!