The weather in Ohio is wretched and my mood is starting to reflect the weather. Wretched. My backyard is a swamp, my freshly groomed dogs now look like strays and smell like Fritos. I've ruined two pairs of Gap City Flats over the course of 5 days and have mopped my kitchen floor more times than I care to count.
The April showers that bring May flowers almost have me wishing for snow, but not quite. As I sat down to Lightroom to edit a bunch of photos, I noticed a trend. My mood totally transfers to my photos. When it is dreary and cold, I tend to shoot moody, dark images. When the skies are clear, I opt for light airy backgrounds and styling.
Take another look at the photo above. Any idea what kind of mood I was in? I made a feeble attempt of incorporating citrus into the frosting in an effort to brighten my melancholy state. Did it work? Not so much. Maybe I need to whip up some fruit sorbets and rich ice creams.
Okay enough about me and the craptastic weather, let's talk cupcakes. I started with one of my favorite chocolate cupcake recipes and slathered them with a gorgeous orange infused cream cheese frosting that's so good you might be compelled to bathe in it. However, that may get a little messy, but hey, at least you'd smell good! The citrus kick provided me with the little oomph that I needed to escape the rainy day blues.
Hopefully the weather (and my mood) will improve in short order. If sunshine doesn't do it, the sugar high from these citrus-y chocolate cupcakes certainly will.
Chocolate Cupcakes with Orange Cream Cheese Frosting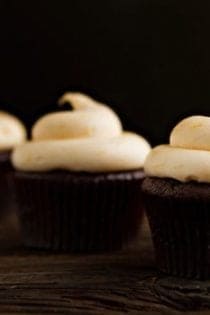 Ingredients:
For the cupcakes
1 3/4 cups all-purpose flour
2 cups sugar
3/4 cups good cocoa powder
2 teaspoons baking soda
1 teaspoon baking powder
1 teaspoon kosher salt
1 cup buttermilk, shaken
1/2 cup vegetable oil
2 large eggs, at room temperature
2 teaspoons pure vanilla extract
1 cup freshly brewed hot coffee
For the Orange Cream Cheese Frosting
16 ounces cream cheese, softened to room temperature
zest of one large orange
3 tablespoons vegetable shortening
6 tablespoons butter, softened to room temperature
2 pounds confectioners' sugar, sifted
2 teaspoons pure vanilla extract
Directions:
For the cupcakes
1. Preheat the oven to 350 degrees F. Line standard muffin tins with paper liners; set aside.
2. Sift the flour, sugar, cocoa, baking soda, baking powder, and salt into the bowl of an electric mixer fitted with a paddle attachment and mix on low speed until combined. In another bowl, combine the buttermilk, oil, eggs, and vanilla. With the mixer on low speed, slowly add the wet ingredients to the dry. With mixer still on low, add the coffee and stir just to combine, scraping the bottom of the bowl with a rubber spatula.
3. Using a large scoop, distribute the batter between 24 muffin wells, filling each well 2/3 full. Bake for 18 to 22 minutes, or until a cake tester comes out clean. Cool in the pans for 10 minutes, then remove to a cooling rack and cool completely.
For the Orange Cream Cheese Frosting
1. In a the bowl of a stand mixer fitted with the paddle attachment, cream together cream cheese, orange zest, shortening, and butter until well combined.
2. With the mixer of low, gradually add the confectioners' sugar until thoroughly incorporated and smooth. Add vanilla and mix to combine.
Notes:
- Store cupcakes in a sealed container in the refrigerator. Remove to room temperature 30-45 minutes before serving.
- I added a tiny bit of orange gel dye to the frosting to achieve the pale orange hue that is seen in the photo.
- Cupcake recipe adapted from Ina Garten.
All images and text ©
Follow Jamie on Instagram. We love to see what you're baking from MBA! Be sure to tag @jamiemba and use the hashtag #mbarecipes!