Chocolate Cupcakes with a White Chocolate Rasberry Cream Cheese Frosting…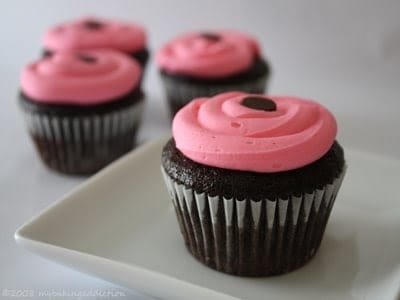 I get bored with things VERY quickly and I have found myself getting bored with cupcakes. So, I decided to start branching out…attempting to create delicious cupcakes other than the usual chocolate, vanilla, etc. I used a delicious chocolate cake recipe that I originally posted here, but I topped these cupcakes with a White Chocolate Raspberry Cream Cheese Frosting making them anything but ordinary. I love the combination of chocolate and raspberry and what is better than delicious cream cheese frosting?

Chocolate Cupcake Recipe
2 cups flour
2 cups sugar
1 teaspoon baking powder
2 teaspoons baking soda
1 teaspoon salt
1 cup unsweetened cocoa
1 cup oil (I use canola)
2 cups hot water
2 eggs
2 teaspoons vanilla
Preheat oven to 350 degrees. Mix everything in a bowl until you get a thin batter. I then poured the batter into muffin tins with cupcake liners. Bake them at 350 degrees until a toothpick inserted in the center comes out clean. My cupcakes baked for about 19 -20 minutes. Yields 20 cupcakes.
White Chocolate Raspberry Cream Cheese Frosting
1 stick of unsalted butter (room temp)
1 8 ounce package of cream cheese (room temp)
6 ounces melted white chocolate (I used Ghirardelli White Chocolate Baking Bars)
1/2 teaspoon vanilla
2 teaspoons raspberry extract
4 1/2 to 5 cups powdered sugar (depends on your desired consistency)
Directions
Melt the white chocolate in a double boiler over simmering water NOT boiling. Once the chocolate is melted, set aside to cool slightly.
Beat cream cheese in a mixing bowl until smooth and creamy, gradually add in melted white chocolate and beat until smooth.
Beat in butter, vanilla and raspberry extracts.
Gradually beat in the powdered sugar until it is all incorporated and smooth.
After the frosting was well blended, I mixed in a tad of Wilton Gel Dye in pink and mixed until thoroughly combined. I piped the frosting on using
a decorating bag without a tip…I could not find the one I wanted, so I improvised and just snipped a bit off the end.
Enjoy!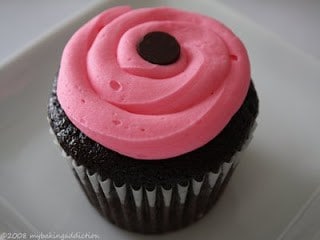 This post may contain affiliate links. We are a participant in the Amazon Services LLC Associates Program, an affiliate advertising program designed to provide a means for us to earn fees by linking to Amazon.com and affiliated sites.