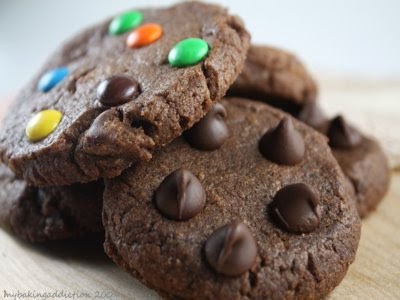 I first came across this recipe a week or so ago when I was browsing a cooking/baking message board. The author of the post said that the recipe for these cookies came from Williams Sonoma. Many individuals on the board were intrigued by the cookies; posts started popping up professing their love and proclaiming them to be the crème de la crème of chocolate cookies. Well, since I am a baking follower, I had to jump on the bandwagon and try these out myself. As I was making these, the dough looked familiar, but since I was functioning on less than five hours of sleep I could not put my finger on the reason behind the familiarity. I finished the dough and proceeded to use a TBS cookie dough scoop to measure the dough. Using this method, I ended up with 42 average sized cookies. The only substitutions I made to this recipe were that I used ½ cup butter and ½ cup butter flavored shortening and I used mini m&m candies in some of the batches. These cookies baked nicely at 325°F for 10 minutes. Once these came out the oven and cooled, it hit me…these taste and look like Dorie Greenspan's World Peace Cookies! The cookies were consumed in no time and were deemed delicious by a certain cookie monster. Many thanks to Allison for posting this recipe!
Jennifer's Chocolate Dream Cookies
Yields: 48 medium-sized cookies

2 cups all-purpose flour
3/4 c cocoa powder
2 teaspoons baking powder
1 teaspoon salt
1 cup sugar
1 cup dark brown sugar, packed
1 cup butter, softened (see my modification above)
2 teaspoons vanilla extract
2 eggs
6 oz. semi-sweet chocolate chips (I used 8 ounces)

Directions
Preheat oven to 325°F. Sift together first 4 ingredients. In a separate bowl, cream together butter and sugars until fluffy. Add eggs one at a time, beating well after each addition. Add vanilla. Stir in flour mixture just until combined (do not over beat) and fold in chocolate chips.Drop onto parchment-lined cookie sheets and bake for 8-10 minutes. Cool completely on wire racks.