When I was kid, there was an ice cream truck named Mr. Frosty that meandered through our neighborhood on hot summer days. As soon as we heard the familiar song, we would drop whatever we were doing to raid my dad's coin dish on his dresser.
My brother and I typically opted for Screwballs because there was nothing better than that frozen piece of gum nestled into the bottom of the conical, plastic cup. Please tell me at least some of you agree with me?
When my dad was home from work, he always ordered a chocolate malt with extra malt. Never being much of a chocolate fan, this ultra thick, malty shake never appealed to me – although I couldn't resist sneaking slurps of my dad's treat just see if I could acquire a taste for the flavor.
Yeah, that didn't really work until adulthood when I started ordering vanilla malts from the local ice cream stand. Malt, who knew?!
Last week, I was strolling through Target's Easter candy selection and had a flash of brilliance when I laid my eyes upon Whoppers Easter Robin Eggs. Cupcakes. Chocolate Malt Cupcakes!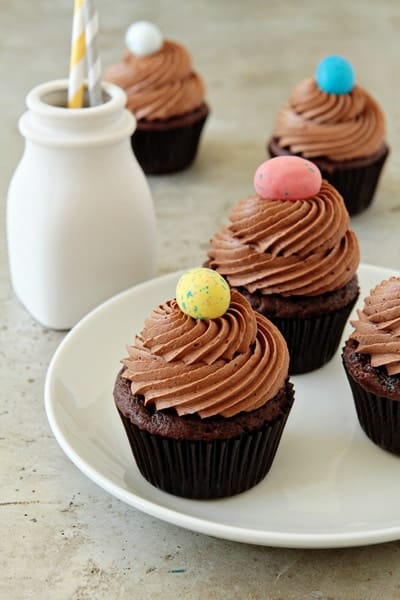 Well, that whole flash of creative brilliance was squashed when I shared this idea with Amber who chuckled and informed me that my idea was not as imaginative as I had thought. In fact, she made them AND posted them awhile ago, but being that I have the short term memory of a gnat – I forgot. I even commented on the post about how much my dad would love them. Holy bad memory, Batman!
Although Chocolate Malt Cupcakes may not be the most ingenious idea I've ever had, I knew they would be the perfect Easter dessert for my malt loving dad.
A thick, rich, fluffy, malt buttercream blends perfectly with chocolate cupcakes to create an amazing Easter inspired dessert. Clearly malt and chocolate are a combination that bears repeating, over and over again. Pick up those Whoppers Easter Robin Eggs and go to town. Your family will love you for it.
[pinit]

Chocolate Malt Cupcakes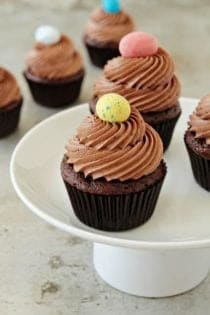 Ingredients:
For the Cupcakes
1 (18.25 ounce) package devil's food cake mix (see note below)
1 (5.9 ounce) package instant chocolate pudding mix
1 cup sour cream
1 cup vegetable oil
4 eggs, lightly beaten
2 teaspoons pure vanilla extract
1 tablespoon instant espresso granules dissolved in 1/2 cup warm water (see note below)
For the Chocolate Malt Buttercream
4 sticks (2 cups) unsalted butter, room temperature
2 teaspoons pure vanilla extract
1/8 teaspoon fine sea salt
2/3 cup malt powder
2/3 cup unsweetened cocoa powder
4 1/2 cups confectioners' sugar (powdered sugar)
3-5 tablespoons heavy cream
Directions:
For the Cupcakes
1. Preheat oven to 350 degrees F. Line muffin tin with paper liners or spray with non-stick cooking spray.
2. In the bowl of a stand mixer, fitted with the paddle attachment, or with a hand mixer in a large bowl, beat together the cake and pudding mixes, sour cream, oil, eggs, vanilla and espresso water mixture. Beat for about two minutes on medium speed until well combined.
3. Using a large cookie scoop, distribute the batter between 24 muffin wells; about 3 tablespoons of batter per well.
4. Bake in preheated oven for 18-22 minutes or until the tops of the cakes spring back when lightly touched. Allow cupcakes to cool inside muffin tins for about 10 minutes.
5. Remove cupcakes from muffin tins and allow to fully cool on a wire rack. Once cupcakes are cool, prepare your frosting.
For the Buttercream
1. In the bowl of a stand mixer fitted with the paddle attachment, beat butter, vanilla, and salt on medium speed until creamy.
2. In a large bowl, sift together the malt powder, cocoa powder and confectioners' sugar.
3. Gradually add the dry ingredients to the butter and mix at low speed until fully incorporated. Scrape down the sides of the bowl as needed.
4. Once all of the dry ingredients have been incorporated, add in 3 tablespoons of heavy cream. Turn the mixer up to medium speed and beat the buttercream for about 5 minutes, scraping down the sides of the bowl as needed. If you want your frosting a little thinner, gradually add in more cream, 1 teaspoon at a time until you reach the desired consistency.
5. Frost your cooled cupcakes and garnish with Whoppers Easter Robin Eggs
Notes:
- If you are not a fan of boxed cake mixes, just use your favorite chocolate cupcake recipe that yields 24 cupcakes.
- You can sub Whoppers candy for the Robin Eggs.
- My favorite Devil's Food Cake is Betty Crocker - Pudding in the mix.
- If you don't have instant espresso granules, you can sub in 1/2 cup warm coffee.
- The espresso in this recipe really just deepens the chocolate flavor, but if you aren't into the whole coffee thing, just use 1/2 cup warm water.
- I used a large French Tip from Bake It Pretty to pipe the buttercream.
All images and text ©
Follow Jamie on Instagram. We love to see what you're baking from MBA! Be sure to tag @jamiemba and use the hashtag #mbarecipes!