Well, Christmas has come and gone… I hope you all had a wonderful holiday season full of family, friends, food and great memories.
It is freezing here in Ohio and there is just something about cold weather that makes me crave mint… mint tea, mint bath products and mint desserts. Santa was good to me this year, so I am all stocked up on mint tea, Twisted Peppermint products from Bath & Body Works and now my blog is going to be full of mint desserts!
First on the menu is a decadent and delicious recipe for Chocolate Mint Brownies. These are pretty simple to make and in my opinion, they have great visual appeal. Brian took these to work where they received rave reviews…I think this minty treat make a great addition to your New Year's Eve party or your football feast!
Have a great day, thanks so much for stopping by! Stay warm and stay tuned for more minty madness!

Chocolate Mint Brownies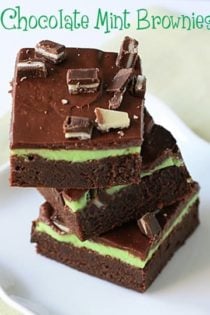 Ingredients:
For the Brownie Layer
1/2 cup (113 grams) unsalted butter, cut into pieces
4 ounces (114 grams) unsweetened chocolate, coarsely chopped
1 1/4 cups (250 grams) granulated white sugar
1 teaspoon pure vanilla extract
2 large eggs
1/2 cup (70 grams) all purpose flour
1/4 teaspoon salt
For the Mint Layer
2 tablespoons(28 grams) unsalted butter, at room temperature
1 cup (115 grams) confectioners (powdered or icing) sugar, sifted
1 - 1 1/2 tablespoons heavy cream
1/2 teaspoon pure peppermint extract or 1-2 tablespoons crème de menthe
green food coloring (optional)
For the Chocolate Glaze
3 ounces (90 grams) semisweet chocolate, chopped
1 tablespoon (14 grams) unsalted butter
Garnish
chopped Andes Mints (optional)
Directions:
Preheat oven to 325 degrees F (160 degrees C) and place the rack in the center of the oven. Have ready a 9 x 9 inch (23 x 23 cm) square baking pan that has been lined with aluminum foil across the bottom and up two opposite sides of the pan. Set aside.
For the Brownie Layer
In a stainless steel (heatproof) bowl placed over a saucepan of simmering water, melt the butter and chocolate. Remove from heat and stir in the sugar and vanilla extract. Add the eggs, one at a time, beating well (with a wooden spoon) after each addition. Stir in the flour and salt and beat, with a wooden spoon, until the batter is smooth and glossy and comes away from the sides of the pan (about one minute). Pour the brownie batter evenly into the prepared pan.
Bake in the preheated oven for about 25 minutes or until the brownies start to pull away from the sides of the pan and the edges of the brownies are just beginning to brown. A toothpick inserted in the center of the brownies will come out almost clean. Remove from oven and place on a wire rack to completely cool.
For the Mint Layer
In the bowl of your electric mixer or with a hand mixer, beat all the ingredients until smooth. Add a few drops of green food coloring if you want the frosting green. If the frosting is too thick, add a little extra cream. (The frosting should be just thin enough to spread.) Spread the frosting evenly over the cooled brownie layer. Place in the refrigerator for about 5-10 minutes or until firm.
For the Chocolage Glaze
In a heatproof bowl over a saucepan of simmering water, melt the chocolate and butter. Spread over the mint filling and refrigerate for about 30 minutes or until the chocolate glaze starts to dull.
To Serve: Remove the brownies from the pan by lifting with the ends of the foil and transfer to a cutting board. With a sharp knife, cut into 30 squares. It is a good idea to wipe your knife between cuts with a damp cloth. These brownies can be stored in the refrigerator for several days or else frozen.
Makes about 30 1-inch (2.5 cm) squares.
Notes:
- I did not want the green color to be as dark as I made it, but I tend to have a heavy hand with gel coloring.
- I ran out of chocolate for the chocolate glaze layer, so I improvised by heating 1/2 can of chocolate frosting for 10 second in the microwave, stirred it well and poured it over the mint layer. It set up beautifully in the fridge.
- I added chopped Andes mint candies to the chocolate layer as a minty garnish.
adapted from The Joy of Baking
All images and text ©
Follow Jamie on Instagram. We love to see what you're baking from MBA! Be sure to tag @jamiemba and use the hashtag #mbarecipes!
[pinit]