Since it's the week of Valentine's Day, I am going to be featuring several decadent, delicious and addictive desserts that will make your partner swoon. I started the week off with an amazing chocolate cake layered with espresso buttercream and covered with chocolate ganache. If you missed this post, definitely take a minute to check it out, because it ranks as one of the Top 5 recipes to come out of my kitchen and it's a must bake!
Today's post is a dreamy combination of chocolate, eggs, butter, sugar and heavy cream…5 simple ingredients that blend together to create one divine dessert. I have made mousse several times in the past and although I don't find them to be a quick and simple dessert, they are definitely not difficult. In my opinion, anyone with a little time and patience can whip together a stunning mousse that is sure to please. Serve this luscious chocolate mousse in a pretty martini glass, garnish with fresh berries and you will have the perfect dessert for a very special day.
There are only five days until Valentine's Day, so buy some chocolate, put on your apron and get to baking something incredible for your sweetheart! Looking for some adorable kitchen related Valentine's Day gifts for your sweetie? Check out Katy's post for some fabulous ideas!
Stay tuned for more Valentine's Day inspired desserts!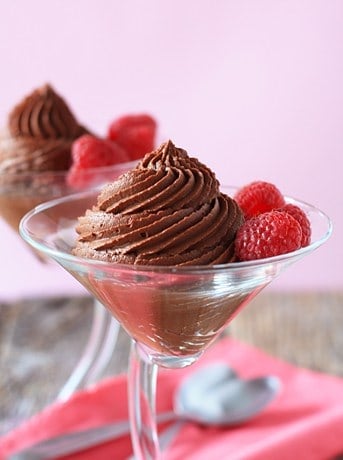 Chocolate Mousse
Ingredients:
8 (1 ounce) squares semisweet chocolate, coarsely chopped
1/2 cup water, divided
2 tablespoons butter (no substitutes)
3 egg yolks
3 tablespoons sugar
1 1/4 cups whipping cream; whipped with vanilla extract* until stiff peaks form
1/2 teaspoon pure vanilla extract*
Directions:
1. In a microwave or double boiler, heat chocolate, 1/4 cup water and butter until the chocolate and butter are melted. Cool for 10 minutes.
2. In a small heavy saucepan, whisk egg yolks, sugar and remaining water. Cook and stir over low heat until mixture reaches 160 degrees F, about 1-2 minutes. Remove from the heat; whisk in chocolate mixture.
3. Set saucepan in ice and stir until cooled, about 5-10 minutes. Fold in whipped cream. Spoon into dessert dishes and refrigerate for 4 hours or overnight.
Notes:
Mousse was piped into the glasses using a giant French tip from bakeitpretty.com
Follow Jamie on Instagram. We love to see what you're baking from MBA! Be sure to tag @jamiemba and use the hashtag #mbarecipes!
[pinit]