Peppermint bark flecked chocolate cupcakes topped with vanilla buttercream, chocolate ganache and a sprinkling of crushed candy canes.
So, I totally meant to post these Chocolate Peppermint Cupcakes before the the holidays, but I'm like 100 months pregnant (okay, really 36 1/2 weeks), so I decided to take a little blog break over the holidays and resume regular posting on January 1st.
In my brain, a new year should start on a Monday not Wednesday, so I used that rationale to talk myself out of working until Monday, January 6th. Then, the temperatures plunged into the negatives. We're pretty much snowed in here in Ohio, it's -15, and I'm on modified bed rest which means I'm going slightly stir crazy. So Monday turned into Tuesday, and here we are.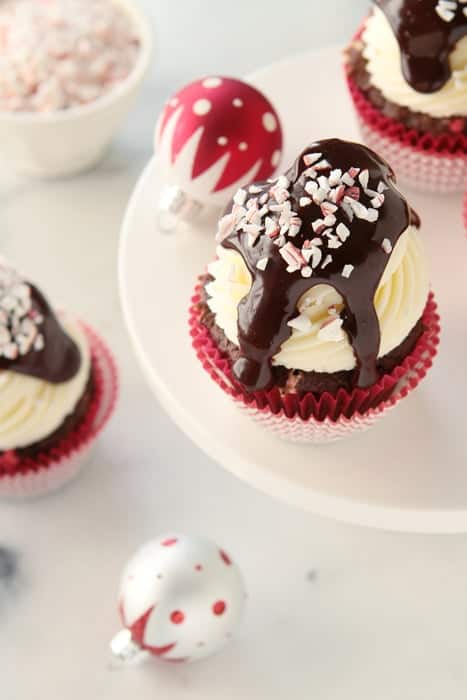 Pregnancy is hard, folks. My feet pretty much resemble those of Fred Flintstone, I sleep in 2 hour intervals, and I feel like I could topple over at any minute due to what feels like a 50 pound baby girl in my belly. Fun times, but I'm 100% positive it'll all be worth it here in a few weeks.
What's the best medicine for frigid temps and pregnancy symptoms? That's easy – cupcakes – the answer is always cupcakes.
So who cares if it's January, and some random person thought it was smart to relegate the blissful combination of chocolate and mint to Christmastime. I know I'm not the only one that hoards Hershey's Candy Cane Kisses for noshing all year long. Let's have these chocolate peppermint cupcakes and buck the trend!
Chocolate Peppermint Cupcakes
Ingredients:
For the Cupcakes
1 (15.25 ounce) package devil's food cake mix (see note below)
1 (3.4 ounce) package instant chocolate pudding mix
3/4 cup sour cream
3/4 cup vegetable oil
3 large eggs, lightly beaten
2 teaspoons pure vanilla extract
1/2 cup warm water
1 cup Andes Peppermint Crunch Baking Chips or chopped peppermint bark
For the Buttercream
4 sticks unsalted butter, softened
1 ½ pounds (24 ounces) confectioners' sugar, sifted
1 tablespoon clear vanilla extract (this helps maintain the bright white color)
4-6 tablespoons heavy cream or milk
For the Ganache
4 oz bittersweet chocolate, chopped into very small pieces
1/2 cup heavy whipping cream
2 tablespoons honey
2 tablespoons light corn syrup
2 teaspoons pure vanilla extract
Directions:
For the Cupcakes
1. Preheat oven to 350 degrees F. Line muffin tin with paper liners or spray with non-stick cooking spray.
2. In the bowl of a stand mixer, fitted with the paddle attachment, or with a hand mixer in a large bowl, beat together the cake and pudding mixes, sour cream, oil, eggs, vanilla and water. Beat for about two minutes on medium speed until well combined.
3. Using a large cookie scoop, distribute the batter between 24 muffin wells; about 3 tablespoons of batter per well.
4. Bake in preheated oven for 18-22 minutes or until the tops of the cakes spring back when lightly touched. Allow cupcakes to cool inside muffin tins for about 10 minutes.
5. Remove cupcakes from muffin tins and allow to fully cool on a wire rack. Once cupcakes are cool, prepare vanilla buttercream.
For the Buttercream
1. In the bowl of a stand mixer fitted with the paddle attachment, or in a large mixing bowl with an electric mixer, cream butter on medium-high speed for about 6 minutes. With the mixer on low speed, slowly add in confectioners' sugar, and continue beating until well blended.
2. Add in vanilla, and 3 tablespoons of heavy cream or milk. Blend on low speed until moistened.
3. Add an additional 1 to 3 tablespoons of heavy cream or milk until you reach the desired consistency. Beat at high speed until frosting is smooth and fluffy; about 5 more minutes.
4. Pipe frosting onto cooled cupcakes and prepare chocolate ganache.
For the Ganache
1. In a small saucepan over medium heat, warm the heavy cream until very hot, but not boiling.
2. Place chocolate pieces in a heat safe bowl. Pour the hot cream over the chocolate and allow it to sit for about 5 minutes. Whisk the cream and chocolate until smooth and thoroughly combined. Whisk in the honey, corn syrup, and vanilla. Allow to cool for about 15 minutes. Do not let the glaze sit for too long or it will harden up before you spoon it over the frosting.
3. Spoon the glaze on the tops of the frosted cupcakes, allowing it to drip down the sides a little bit. Don't add too much glaze or it will drip all over your liners.
Notes:
- Store cupcakes in the refrigerator. Remove them to room temperature one hour before serving.
-Recipe for the ganache is from the fabulous Kristan, of Confessions of a Cookbook Queen.
- If you choose to top your cupcakes with crushed candy canes, be sure to top with the ganache and candy canes just before serving. Otherwise, the candy canes will melt a bit and not be as vibrant as shown in photos.
All images and text ©
Follow Jamie on Instagram. We love to see what you're baking from MBA! Be sure to tag @jamiemba and use the hashtag #mbarecipes!