Salty and sweet Chocolate Toffee Popcorn is a simple and festive hostess gift that doubles as a holiday party snack.
I love this last week of the Christmas season – the bustle around the house, making sure gift lists are checked off, planning the family holiday meal – it's all so exciting! This week, we have Christmas concerts and pageants to attend, school parties to help with and of course, the last minute gifts that always sneak up on me. Even with meticulous planning, it never fails that something creeps up and I need a quick, but fantastic gift.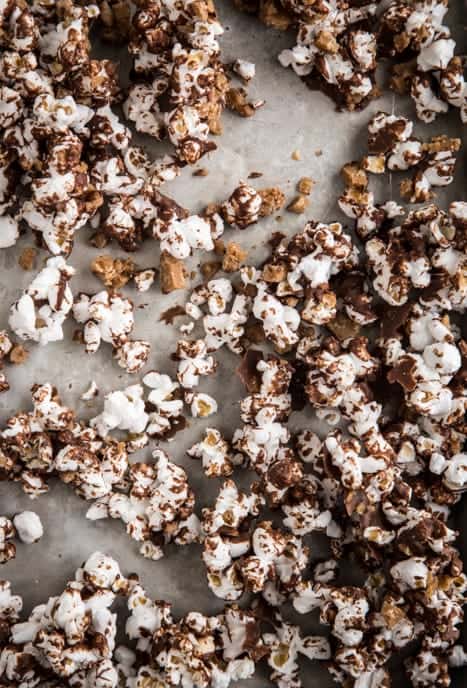 Please tell me this happens to you, too. Please? For instance, maybe you've been invited to a last minute holiday party and you need a sweet gift to bring for the hostess. Now, you have lots of options. You could go with infused vodka, a bouquet of chocolate dipped spoons or a jar of this sweet and salty Chocolate Toffee Popcorn. I love edible gifts for times like this – especially something laced with chocolate and toffee, like this Chocolate Toffee Popcorn. You can never go wrong with chocolate!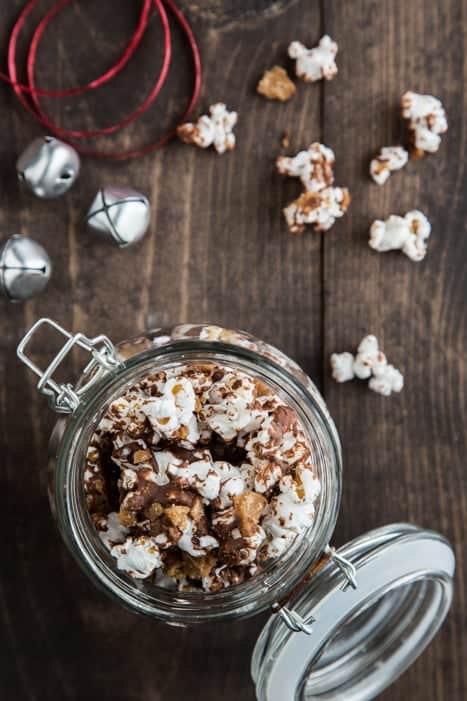 This Chocolate Toffee Popcorn can be made in less than 20 minutes (most of which is inactive time) and it's perfect for anyone on your list. I'm planning on bring a batch of this sweet and salty treat to my family's Christmas get together as a little something for my mom for hosting us all. The great thing about this chocolate toffee popcorn is that it doubles as a hostess gift and a party snack. It's a win win.
Merry Christmas and Happy Holidays!
Chocolate Toffee Popcorn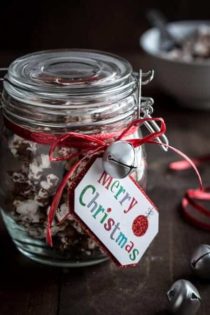 Ingredients:
8 cups air popped popcorn (about 3 tablespoons, un-popped)
1 cup semi sweet chocolate chips, melted
1/2 cup toffee bits
1/4 - 1/2 teaspoon sea salt (to taste)
Directions:
Line a baking sheet with parchment paper. Spread popped popcorn in a single layer on baking sheet. Drizzle with melted chocolate and sprinkle with toffee bits and sea salt. Using a wooden spoon, toss ingredients to coat and distribute evenly. Chill popcorn until chocolate is set. Break up larger chunks. Store in an air tight container in a cool place.
Notes:
- Chocolate Toffee Popcorn stays fresh in the fridge for 3-5 days.
All images and text ©
Follow Jamie on Instagram. We love to see what you're baking from MBA! Be sure to tag @jamiemba and use the hashtag #mbarecipes!