Hi MBA readers! Glory of Glorious Treats stopping by today to hold down the fort while Jamie is caring for her sweet new baby girl.
With Valentine's Day on the horizon I thought a pretty cake would be very fitting. This Chocolate Raspberry Cake is beautiful, delicious… and amazingly easy to put together!
This cake starts with a classic chocolate cake. Feel free to use your favorite boxed mix, or Jamie's recipe for Chocolate Cake. Delicious raspberry frosting and fresh raspberries add to the beauty of this simple, yet impressive cake.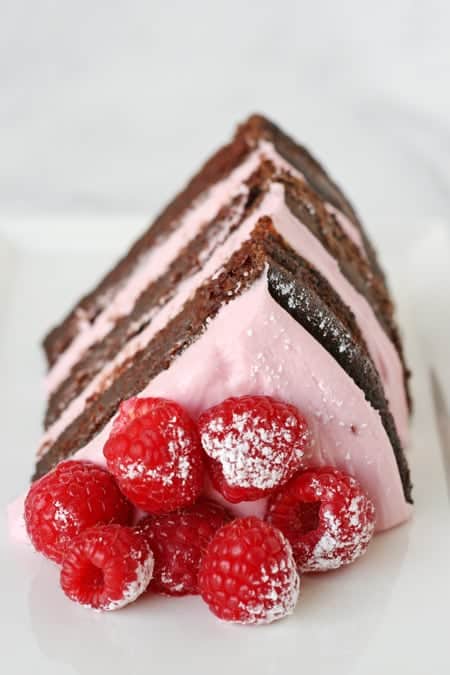 Prepare the cake batter as directed (on the box, or the recipe)
Prepare your cake pans by spreading butter or oil in the pan and coating with a bit of flour. Line the bottom of the pans with parchment paper (or brown paper bag with no printing)
1 baked 3, 6″ cakes because I wanted a nice tall cake. I poured 1 cup of batter into each pan and had some batter left over for a few cupcakes.
Feel free to make 6″, 8″ or 9″ cakes, and divide the batter appropriately. For the 6″ cakes I baked them for 25 minutes, the baking time will vary based on your pan size and how much batter is in each pan. The cakes are done when they have a slight dome and a toothpick inserted in the center comes out clean.
Once the cakes are baked, cool them, then carefully remove from the pans (you can leave the parchment paper on the bottom for now). Wrap the cakes in plastic wrap and put them in the freezer. Freeze cakes for a minimum of 30 minutes. The cake layers can be frozen overnight, or up to 2 weeks (if well wrapped). I like to freeze the cakes because it locks in the moisture and makes them much easier to handle and frost.
When desired, prepare Raspberry Buttercream (recipe below). Spread the frosting with an offset spatula or frost the layers using a large piping bag fitted with a large round tip. Add a generous layer of frosting. After adding frosting to the top layer, arrange fresh raspberries (washed and patted dry). Dust raspberries with powdered sugar if desired.
Serve immediately, or gently wrap the outside of the cake with plastic wrap and keep the cake chilled until almost ready to serve. Allow cake to come to room temperature before serving.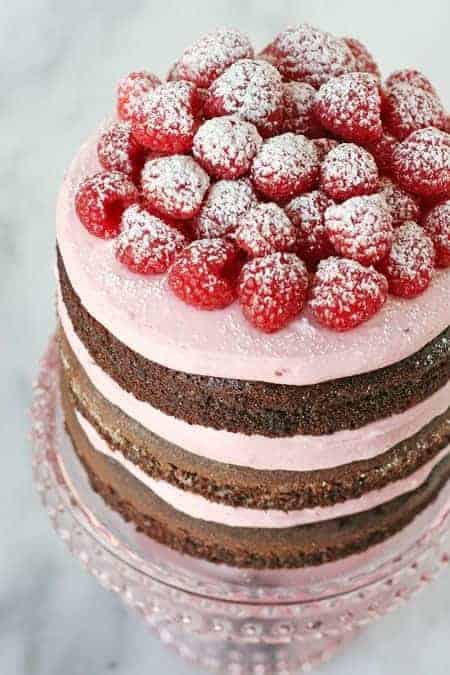 Raspberry Buttercream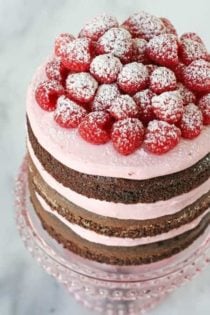 Ingredients:
1/2 cup (1 stick) unsalted butter
4 oz (1/2 package) cream cheese
3 1/2 cups powdered sugar
3 Tablespoons raspberry jam (preferably pure fruit, no additional sugar)
1 teaspoon vanilla
1/4 teaspoon salt
1 Tablespoon milk or cream
pink food coloring (optional)
Directions:
In the bowl of an electric mixer, beat butter until smooth. Add cream cheese and beat until fully combined and smooth.
Add 1 cup powdered sugar and blend. Add 1 Tablespoon of raspberry jam and blend.
Add vanilla and salt (only add salt if you've used unsalted butter)
Continue blending and add another cup of powdered sugar, and 1 Tablespoon of jam. Repeat with the last 1 1/2 cups powdered sugar and remaining tablespoon of jam.
Beat until well blended, smooth and fluffy. Slowly add 1 Tablespoon milk or cream and blend another 20 seconds or so. If desired, add a drop of concentrated pink food coloring (or red liquid food color).
Spread the frosting onto the cake layers using an offset spatula, or pipe the frosting onto the cake layers using a large piping bag fitted with a large round tip.
Notes:
If you have a strong aversion to cream cheese, feel free to replace with an additional 1/2 cup (1 stick) butter
This is enough frosting to generously frost the cake as shown (between the layers only).
Follow Jamie on Instagram. We love to see what you're baking from MBA! Be sure to tag @jamiemba and use the hashtag #mbarecipes!