Chocolate Whopper Malted Drops…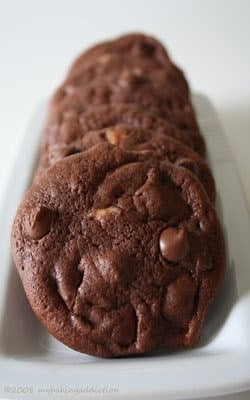 This weeks Tuesdays with Dorie recipe is Chocolate Whopper Malted Drops. I must admit, this recipe did not really intrigue me, although I do indulge in Whoppers from time to time. However, I knew my dad would drool over these, so I decided to proceed with the recipe. I could not find malted milk powder to save my life, so after checking three stores, I decided to just go ahead and use Ovaltine. I have never purchased Ovaltine and the only mental reference I have for Ovaltine is from the movie, A Christmas Story. If you have seen this holiday classic, you know that Ralphie decoded Little Orphan Annie's secret message only to be disappointed that it was an advertisement for Ovaltine. Anyhoo…the dough came together easily and resembled thick frosting, but cutting those Whoppers was a pain in my ass! I tend to be overly anal and had to cut all of them in fourths as opposed to let's say…beating them with a rolling pin or tossing them in the food processor. Honestly, I did not like this cookie dough at all and I kinda consider myself a cookie dough connoisseur. I weighed each cookie out to 1.3 ounces (more analness) and ended up getting 28 cookies. The cookies were very puffy when they came out of the oven, but deflated after they cooled to what is pictured. Speaking of pictures…I did not find these suckers to be very photogenic, or maybe I was just having a crappy camera day! Interesting Whopper fact…apparently these suckers turn in to a toffee like substance when they are baked which kinda bewildered me, but they did impart a nice texture to the baked cookie! The people that consumed these cookies thought they were tasty…I sent my dad some in the mail and his opinion will be the true indicator! If you want to see more Chocolate Whopper Malted Drops, check out the Tuesdays with Dorie site. If you want the recipe, check out Rachel's blog, Confessions of a Tangerine Tart.
Enjoy!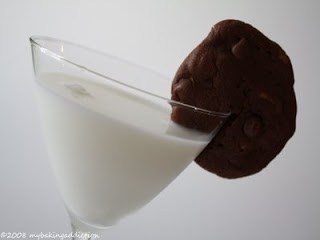 This post may contain affiliate links. We are a participant in the Amazon Services LLC Associates Program, an affiliate advertising program designed to provide a means for us to earn fees by linking to Amazon.com and affiliated sites.