Cinnamon Squares…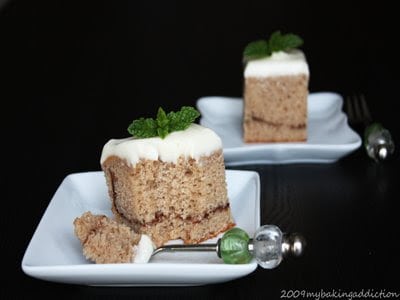 This week's Tuesdays with Dorie recipe for Cinnamon Squares was chosen by Tracey of Tracey's Culinary Adventures. I love cinnamon, but something about a cinnamon and chocolate combination does not go over well with me. I left the decision up to the boyfriend; he ended up choosing cream cheese frosting over the chocolate from the recipe. Cream cheese frosting is his favorite, so I do not even know why I bothered to ask his opinion…I think he would eat it dolloped on a pickle. I also left out the espresso powder because I did not have any on hand. This cake came together with ease, baked up beautifully in 47 minutes. Once the cake was cooled to room temperature I slathered on the cream cheese frosting and placed it in the fridge overnight. After cutting the cake, I was pleased to see that my cinnamon and chocolate swirl did not sink to the bottom as some TwD members stated in the P&Q. Overall, we though this cake was delicious, I would love to try adding chopped apples to the batter. The cream cheese frosting was an amazing addition to this cake, and I will definitely be making this again!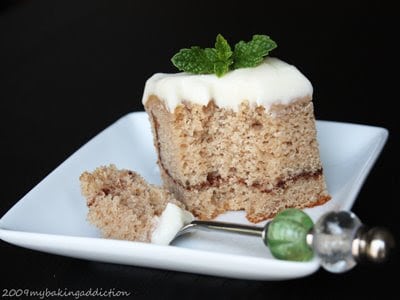 For the recipe, check out Tracey's blog or flip to pages 210-211 in Baking: From My Home to Yours. For more variations on this delicious recipe, head over to the Tuesdays with Dorie blogroll. Have a great day and thanks so much for stopping by!
This post may contain affiliate links. We are a participant in the Amazon Services LLC Associates Program, an affiliate advertising program designed to provide a means for us to earn fees by linking to Amazon.com and affiliated sites.